Brexit contributed to rise in racism in football, says football equality charity
22 October 2019, 00:10
Global's Newsroom has been given exclusive access to Kick It Out's offices in London to find out how the charity is trying to tackle racism in English football.
The latest figures show a 43% increase in reported cases of racism in football grounds up and down the country over the last 12 months.
Kick It Out told us while the clubs and the FA are doing what they can to tackle the issue, what happens off the pitch can have a huge impact too.
When it comes to social media "It's endless," one of the education team told us. He said there were "millions of accounts," and "millions of tweets" which were "impossible to police."
Within that, there were a lot of cases of 'go back to where you came from' which has been linked to Brexit.
Sarah Train is Kick It Out's Professional Clubs Equality Officer, she told Global's Newsroom that Brexit wasn't the only issue but there had been an increase in other abuse that had been around for quite a long time.
She said: "Issues we're facing now have always been there in football, it's just a case of whether they peak and trough at any one time.
"There's a lot of discussion and rhetoric around what's driving an increase in discrimination within football stadiums in this country.
"Some agree it's a societal problem, most people think it is driven by what we like to refer to as Brexit, but we see an increase of things that have been around for quite a long time. Things like standard racism, sexism, homophobia, Islamaphobia and Transphobia.... and those things very much go hand in hand.
"We can look at the political landscape, look at the correlation between what happens inside a football stadium and what goes on outside a football stadium. But that's not to negate any kind of responsibility for football clubs to address these issues, it's not just a political problem outside of a ground, and I think that clubs, generally, are very good at doing so.
She said that there was only so much a club could do to address the issues, and that finance plays a huge part in what can be done.
Sarah told Global's Newsroom: "Clubs can only do their best in as much as addressing issues, but that means there has to be an understanding that no club is perfect. Some do it slightly better than others, but the work is very varied and you get a different level of input and time commitment from different clubs and that's throughout the leagues. Of course, the difference between Premier League and League Two is a huge difference, you're talking about resources and financial backing.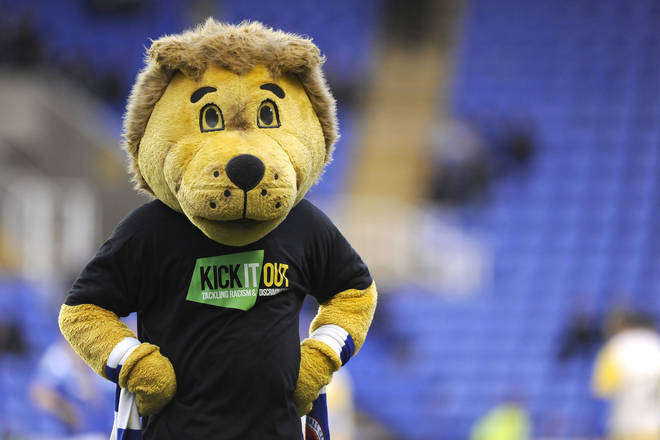 While cases of racist language and gesticulation remain present on our terraces, there has been a surge in cases where high-profile players have been racially abused. Liverpool's Mo Salah, Man United's Marcus Rashford and Paul Pogba, Manchester City's Raheem Sterling and Chelsea's Tammy Abraham to name just a few.
George Chambers is part of the team at Kick It Out responsible for handling reports of racism, he said: "When a call comes through, if it's something like mass chanting in a stadium, or player-on-player incident, we'll pass it on to the FA and they'll be responsible for investigating that.
"If there's a criminal investigation that goes to the police.
"We deal with everything from the pro-game right down to grassroots. We get a lot of fans, they tend to be the ones reported to us, maybe someone shouting something at a player or another fan group.
"At grassroots level you may often get the victim come towards you, they've been out playing on a Saturday or Sunday and someone has been discriminatory towards them and they've come to us for support.
"Twitter is a big issue at the moment, the vast amount of abuse happening on social media platforms. There has been a lot centred around Twitter. There's going to be a rise this season, it's out there and it's high profile and a lot of players have started speaking up about it. It's a hot-topic at the moment but it's something that needs to be addressed.
"There's a lot of people using fake accounts, troll accounts and there needs to be something put in place to stop it being so easy to create these accounts, say whatever abuse they want, and then move onto the next account.
"Seems to be increasing. By the way it's going, it looks like we've had a vast number already, grassroots has only just begun and we've already seen a lot of reports coming through."
Tackling the issue within a stadium is one thing, but controlling what happens on social media is much more difficult.
Osei Sankofa is part of the education team at Kick It Out: "It's endless. There's millions of accounts, millions of tweets, it's almost impossible to police.
"All we can do is what we can on limited resources, and when someone calls in make sure it gets passed onto the right bodies and we follow up to make sure there's a conclusion.
"There seems to be a real desire from the platforms to make it a safer place for players, but the proof is in the pudding. Positive words are great, the enthusiasm for change is great but only time will tell. But, I think you are going to see a continuous rise in cases of online hate and social media abuse because that's the trend at the moment.
"I don't think you can get inside the minds of people and make them stop. It's all about consequences. What are the consequences? Most people, under the right set of consequences, won't behave in a certain way. Right now, I might get my account suspended, but straight away I could open up another one, so there aren't really any consequences. And it's hard to police that."
Local teams are encouraged to support the campaign.
Tajean Hutton is Kick It Out's Grassroots Manager: "At grassroots it's a lot to do with a lack of understanding. A lot of people don't understand that their behaviour is wrong. That's not exclusive to people who are on the pitch, a lot of it is is a problem with the governing bodies. People who work within County FAs don't realise what equality and inclusion is. They just don't know. So when that lack of understanding is there you have a lot of ignorant, unconscious bias and you can't blame someone who hasn't been educated.
"Banning someone from a park in North London won't stop them going to a park in West London. There's a deeper issue that needs to be addressed and telling someone that they can't go to a particular venue isn't the answer. Unfortunately, there aren't enough people in positions to provide that education."