Brexit: MPs accuse Prime Minister of bluffing over General Election threat
22 October 2019, 18:23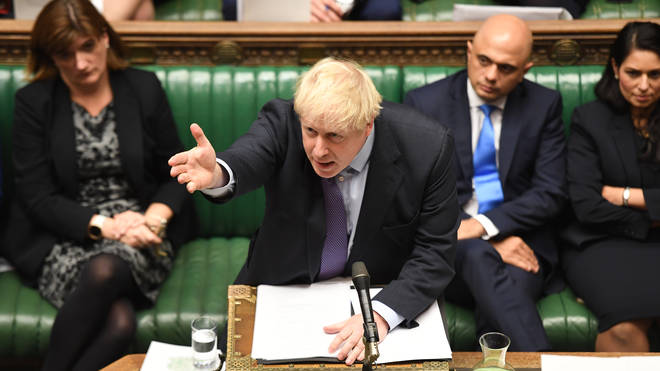 Some MPs think Boris Johnson's bluffing after threatening to scrap his Brexit deal if he doesn't get his Brexit deal through the Commons by Thursday.
Earlier Mr Johnson confirmed he planned to pull the Brexit Bill altogether and trigger a general election if MPs vote the deal down.
Tonight the Commons will decide whether to support a controversial three-day timetable for the legislation to get approved.
Labour leader Jeremy Corbyn said the Prime Minister was trying to "blindside" Parliament and force the deal though. He urged fellow MPs to challenge Mr Johnson.
Mr Corbyn warned there could be "no equitable deal with the USA", saying trade negotiations with Donald Trump following a no-deal Brexit would be "one-sided".
He added: "All 68 clauses have got to be considered and voted on within the next, what, 24, 48 hours starting this evening. It's actually an abuse of Parliament, and a disgraceful attempt to dodge accountability, scrutiny, and any kind of proper debate."
Jeremy Corbyn has said he will be voting against both the second reading of the Bill and the programme motion.
Labour will seize every opportunity we can to safeguard workers' rights, protect our economy and ensure the people are given the final say. pic.twitter.com/l1C9kMjTlk

— Jeremy Corbyn (@jeremycorbyn) October 22, 2019
The Prime Minister says if that schedule's rejected he'll demand a general election - although it's something parliament has to agree to.
The SNP's Westminster leader Ian Blackford was outraged when he spoke in the Commons, he branded it an "insult to democracy" that the Government were attempting to push the Bill through the Commons in three days.
He said he urged members to ask themselves if this was really how they wanted things to be done.
Liberal Democrats Brexit spokesman Tom Brake tweeted: "The more time there is for scrutiny of the #WithdrawalAgreementBill, the less appealing it is.
"Even the most optimistic analysis of the proposals highlights serious negative impacts to the economy, whilst #BackdoorNoDeal remains a threat further down the line."

Independent MP Nick Boles accused Downing Street of bluffing. He tweeted: "No 10 is bluffing, as usual. There is no way that after winning a famous victory on 2nd reading the PM is going to pull the bill just because MPs reject the programme motion. He will bring forward a revised motion giving us a few more days and blame Parliament for any extension."