Five arrested at boozy Brexit celebrations in central London
1 February 2020, 09:50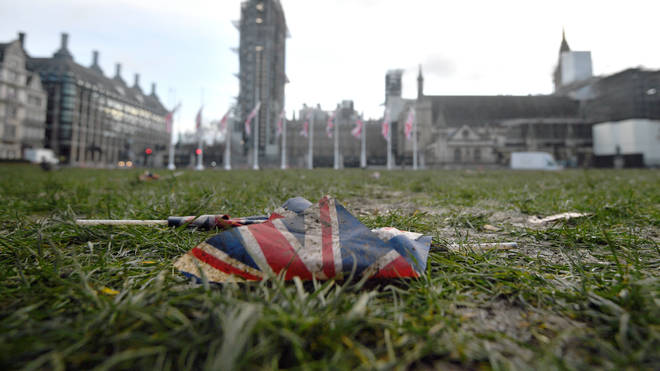 Five men have been arrested during the Leave Means Leave Brexit celebrations at Parliament Square, the Metropolitan Police confirmed.
Kevin Murphy, 52, of Corbyn Street, N4, was arrested and charged with being drunk and disorderly and criminal damage.
He has been remanded in custody and will attend Westminsters' Magistrates Court today.
There are also three others in police custody following the celebrations.
A Met spokesperson said: "A 28-year-old man was arrested for being drunk and disorderly, a 52-year-old man was arrested for being drunk and disorderly and obstructing a constable, and a 33 -year-old man was arrested under a Section 5 Public Order Act.
"All remain in police custody at this time."
A 47-year-old man was also arrested under Section 5 Public Order on suspicion of threatening behaviour, but he has been released from custody and will not face further action.
It came as thousands of people across the country celebrated the historic departure from the bloc.
There were protests against the celebrations as pro-EU protesters let off flares on Westminster Bridge and unfurled an anti-Brexit sign, reading: "Here to stay, here to fight. Migrants in Tories out."
Pro-EU supporters also attended a Parliament Square candlelight vigil.
A Brexit supporter on Glasgow's Buchanan Street was also detained by police after allegedly shouting at an anti-Brexit vigil, according to local reports.
Glasgow Police Superintendent Mark Sutherland said: "On Friday, 31 January 2020, officers were in attendance at various Brexit related events which took place in Glasgow City Centre.
"A proportionate policing response was put in place to ensure public safety and minimise disruption to the wider city centre community.
"The events passed peacefully with only one arrest of a 25-year-old man in connection with a minor disorder offence on Buchannan Street. He has been reported to the Procurator Fiscal."
There was a heavy police presence in Westminster amid fears of clashes between the two groups. Venues around the celebrations also sold plastic cups.
People attempted to burn EU flags and poured beer over the wreckage during the pro-Brexit rally.
Parliament Square has returned to normal following the Brexit celebrations on Friday night.
Little remained of the Leave Means Leave event other than some discarded Union Jacks and muddy footprints on the grass.
Street cleaners were also sweeping away the remnants of the party while staging used by speakers including Nigel Farage had been removed overnight.