Brits to be evacuated from coronavirus cruise ship as two passengers die
20 February 2020, 08:24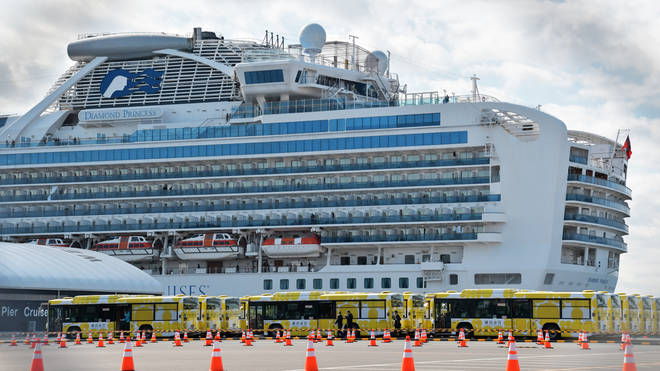 Brits who have been quarantined on the Diamond Princess cruise ship will be brought back to Britain on a flight on Friday.
The Home Secretary urged other "British nationals still seeking to leave to contact us" as he said information has been given for those registered for the flight.
He added: "We will continue to support British nationals who wish to stay in Japan."
Those who are brought back from the coronavirus stricken ship will spend a fortnight in quarantine at Arrowe Park on the Wirral on their return.
Japan's health ministry confirmed on Thursday that two elderly passengers taken off the Diamond Princess
because they were infected with coronavirus have died.
They are the first fatalities from the virus-stricken boat, and Japan now has three deaths linked to the Covid-19 illness.
Japan's NHK public television said both were Japanese and in their 80s. A Health Ministry official only confirmed that they had been previously taken to hospital in serious condition and had existing chronic diseases.
The 621 cases confirmed among the Diamond Princess's original 3,711 people on board are the most anywhere outside China. Japan has more than 700 confirmed cases, including the country's first death unrelated to the ship.
The Diamond Princess, docked in Yokohama near Tokyo, started letting passengers who tested negative for the virus off the ship on Wednesday when the government-set 14-day quarantine ended.
In China, it seems the spread of the virus has continued to slow, with 394 new cases reported in the latest daily update from health authorities.
Deaths attributed to the Covid-19 outbreak increased to 114, with mainland China seeing 2,118 people killed and 74,576 total cases.
Meanwhile, the mayor of the South Korean city of Daegu has urged its 2.5 million people to avoid going outside as cases of coronavirus spiked and pleaded for help from the central government.
Kwon Young-jin made the request in a televised news conference after the south-eastern city and nearby towns reported 35 additional cases of infection with Covid-19 on Thursday.
David Abel, who is being treated for coronavirus in Japan alongside his wife Sally, posted pictures of the couple on Facebook from their hospital beds.
He said: "We arrived in lovely hospital a couple of hours ago. Taken by ambulance blues & twos the entire journey.
"Outside the hospital I came over a bit weird and nearly passed out. Every pore on my body opened and i was wheelchaired to our room.
"Full health inspection and now we know what's going on. We both contracted a cold (unaware of) and it has not yet turned into pneumonia. (we do have coronavirus).
"Tomorrow the big tests commence. chest x-rays, ECG, chest scan, urine + more.
"We are both in the best place! They do know what they are doing and our two nurses are gorgeous. Sally likes the Dr too.
"Following treatments we require two days of all clear tests then we go for another big 3rd round of tests.
"Wi-fi will not work for me, so this will be the final communication for some time."
He added: "See you all before you know it."
In further posts, he said his wife Sally had a bed in the same room as him and said they were "thinking of all the Brits flying to UK tomorrow."