Coronavirus: Premier League to hold emergency meeting as Arsenal and Chelsea teams isolate
13 March 2020, 06:09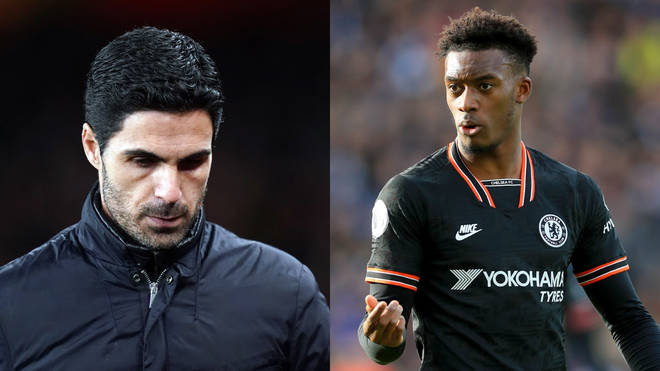 The Premier League will hold an emergency meeting later after the Arsenal head coach Mikel Arteta tested positive for Covid-19.
The planned game with Brighton tomorrow has been cancelled amid a global coronavirus pandemic.
A spokesperson said the club's London HQ has now been closed, and Colney and Hale End training centres will undergo a deep clean.
Chelsea player Callum Hudson-Odoi has also contracted Covid-19.
The Arsenal and Chelsea first-team squads have both gone into self-isolation after the news of the positive tests.
Read more: How long does Covid-19 live on surfaces? Is post from China safe?
Indeed, the Premier League could follow the NBA in suspending its season, with US basketball officials clarifying on Thursday the league will be halted for at least 30 days.
Leicester (three) and Manchester City (one) also have players in self-isolation and the Premier League, who earlier on Thursday said games would go ahead as planned, said it would "convene an emergency club meeting regarding fixtures".
Read more: Coronavirus symptoms - What are they and what is the risk of Covid-19 in the UK?
On Thursday prime minister Boris Johnson said the country was now moving into the next stage of its planning to combat the pandemic - the delay phase. However, he said that does not yet include cancelling sports events.
"We are considering banning major public events like sporting fixtures," he said.
"The scientific advice is this has little effect on the spread - but it does place a burden on other public services."
Elsewhere it has been a different story with some Champions League games, ATP tennis events and most major American sport stopped.
Read more: Coronavirus: Beard sanitiser sales spike after NHS urged staff to shave
UEFA will also give major consideration to delaying this summer's Euro 2020 tournament until next year. European football's governing body has called a meeting of its 55 member associations next week to discuss the matter.
Already next week's Manchester City v Real Madrid and Juventus v Lyon Champions League matches have been postponed. The entire Real squad is in self-isolation, while a Juventus player has tested positive.
The Football Association of Ireland has announced all football activity under its jurisdiction has been suspended until March 29 and Wales' friendly against the United States on March 30 is off.
Read more: Coronavirus UK: Do surgical face masks work to avoid virus symptoms?