Chief Rabbi and Archbishop hit with backlash after condemning Labour 'anti-Semitism'
26 November 2019, 09:58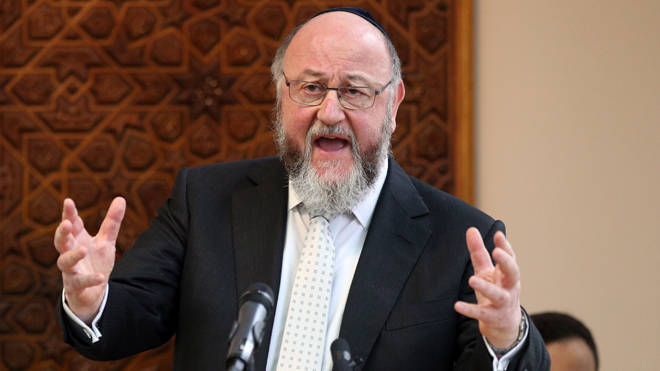 Britain's Chief Rabbi and the Archbishop of Canterbury found themselves on the receiving end of a barrage of abuse from Labour supporters today after they both spoke out in condemnation of Labour's action on anti-Semitism.
In an article in the Times, Ephraim Mirvis warned that Labour's handling of anti-Semitism was "incompatible" with British values.
He said the "overwhelming majority of British Jews are gripped by anxiety" ahead of the December 12 poll and warned "the very soul of our nation is at stake".
The Archbishop of Canterbury Justin Welby voiced support for the remarks, posting online: "That the Chief Rabbi should be compelled to make such an unprecedented statement at this time ought to alert us to the deep sense of insecurity and fear felt by many British Jews."
Both were hit with opposition from supporters of Jeremy Corbyn in the wake of their remarks.
One person wrote online: "The Chief Rabbi is an utter disgrace. Backing the most right wing UK government & telling lies about the man who has opposed racism for decades.
"A rabbi, dancing on the grave of all victims of racists how low has he sunk. Sewer rat would be an underestimate.
Another wrote: "Stop abusing your position to push your personal political beliefs."
A third posted: "Where is the actual evidence of JC (Jeremy Corbyn) being anti-Semitic?"
One person targeted the Archbishop, writing: "Why would we trust the opinion of anybody who believes in imaginary beings?"
Ben Whitney wrote: "Very very unwise comments Archbishop. Just another nail in the coffin of Christianity for those who actually believe in supporting human rights. Not just when it suits a political agenda."
Pat Hall posted: "Very unwise, poorly timed and rather alienating against the CofE. By all means call out religious intolerance (of all kinds, from all parties) but not on the back of a highly personalised and politically motivated attack."
Board of Deputies of British Jews Vice President Amanda Bowman said: "This is an unprecedented call from the Chief Rabbi that is sadly reflective of how many British Jews feel.
"They are fearful that if Labour has allowed antisemitism to take hold in this way while in opposition, that things will become worse if they are in government.
"Jew-baiters are being protected by Labour's opaque and factional disciplinary process, while Jewish MPs are being hounded out of the Party with not a word of protest from Jeremy Corbyn.
"This is not just a Jewish issue. What starts with the Jews never ends with the Jews. If this combination of disdain, injustice, incompetence and malevolence is how Jeremy Corbyn's Labour Party treats a serious issue like anti-Jewish racism, voters are entitled to question how it will handle the other big issues that face the country."
Labour said Mr Corbyn is a "lifelong campaigner against anti-Semitism" and disputed some of the rabbi's claims in his article for The Times, which came ahead of the party launching its race and faith manifesto.
Shadow transport secretary Andy McDonald accepted there were issues that had to be dealt with within the party but he strongly rejected the Chief Rabbi's characterisation of Mr Corbyn.
"It is a serious intervention. It is a reminder of the hurt that has been caused to the Jewish community by the instances of anti-Semitism within the party and broader than that," he told Sky News.
"I really do take issue with the conclusions the Chief Rabbi has raised about the character and nature of the party and indeed Jeremy Corbyn who has devoted his life to fight racism of all kinds.
Mr Corbyn is due to unveil the party's 'faith manifesto' later today.
Mr Mirvis wrote that the Labour leader's supporters have "hounded parliamentarians, members and even staff out of the party for challenging anti-Jewish racism".
"The way in which the leadership has dealt with anti-Jewish racism is incompatible with the British values of which we are so proud - of dignity and respect for all people," he added.
"When December 12 arrives, I ask every person to vote with their conscience. Be in no doubt, the very soul of our nation is at stake."
Labour was insisting it would "guarantee the security of the Jewish community, defend and support the Jewish way of life" and combat anti-Semitism.
"Jeremy Corbyn is a lifelong campaigner against anti-Semitism and has made absolutely clear it has no place in our party and society and that no one who engages in it does so in his name," a spokeswoman said.
She also disputed the rabbi's allegation that there are "thousands" of unresolved anti-Semitism allegations as "categorically untrue".
But the party has been dogged by accusations of failing to tackle complaints quickly enough since Mr Corbyn took charge and numerous MPs have quit the party over the issue.