Three children seriously injured in Hampshire school bus crash
10 September 2020, 10:33 | Updated: 10 September 2020, 13:12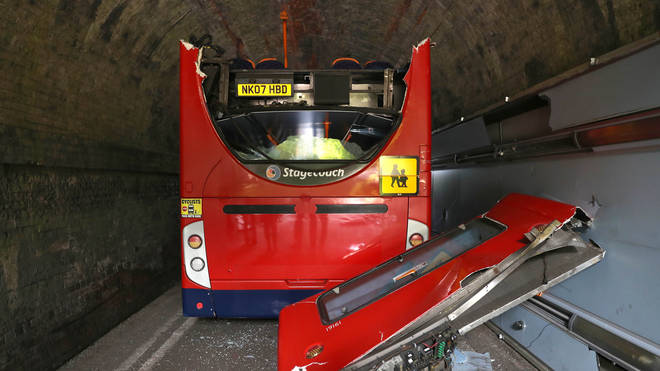 Three children have beens seriously injured after their school bus crashed into a railway bridge in Hampshire.
A further 13 suffered minor wounds. All are aged between 11 and 16 years old.
Pictures from the scene on Well House Lane in Winchester on Thursday revealed the roof of the bus was torn off as it hit the railway bridge.
Part of the vehicle's rear was also ripped off and seen sitting on the road.
According to Hampshire Police, none of the injuries are believed to be life threatening.
Jake Coates, one of the boys on the bus, said he thought it was "crazy" that no one was more seriously injured or had "lost their limbs".
Describing the incident to LBC, he said: "The bus went in and the roof just got ripped off and the windows smashed and dust came through the windows and smoke. Lots of people were screaming and worried they'd die."
Jake's mother, Caroline, also spoke to LBC about seeing children "screaming" and "upset" as she approached the scene of the crash.
"Luckily there was nothing really, really awful," she said.
"There were some head injuries. But it was incredible, really, that they all managed to walk off the bus."
Emergency services and Network Rail staff are currently at the scene.
A police spokesman said: "We were called at 8.10am today, 10 September, to reports of a serious collision on Wellhouse Lane, Winchester, after a school bus collided with a railway bridge causing significant damage to the top of the bus.
"Three students with serious, but not life-threatening injuries, have been taken to hospital.
"A further 13 students with minor injuries have been dealt with at the scene.
"All the students involved are aged between 11 and 16."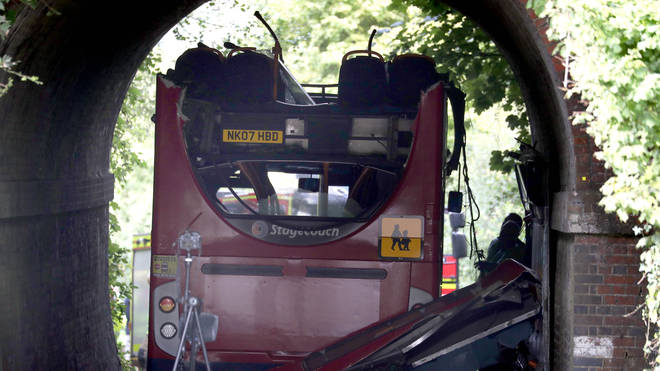 A road closure is currently in place on Well House Lane from the junction with Andover Road North to School Lane, while police deal with the incident.
The spokesman added: "We are working in cooperation with the school and Hampshire County Council children's services to provide support to the students and their parents."