Christmas Eve morning news briefing, 24 December
24 December 2019, 06:16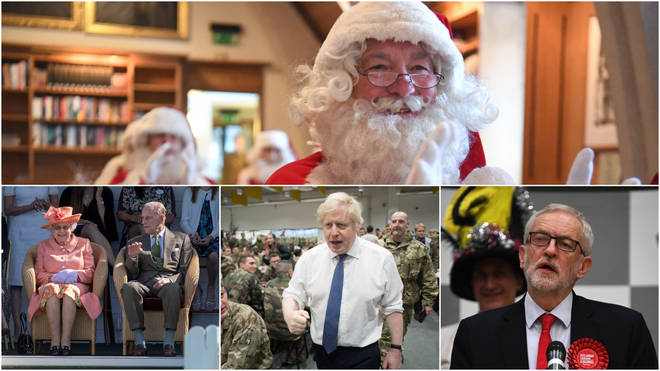 Good morning, here's all the UK and world news you're waking up to on Christmas Eve!
Morning, EJ here with everything you need to start your day right.
Christmas
Regular readers of my morning briefing will know I have been providing a countdown to Christmas, well this time tomorrow Christmas will have broken out across the nation, children will be waking up and parents will be wanting another hour in bed.
I suppose today's briefing is my Christmas message to you.
Speaking of Christmas messages, the Queen will issue her annual address to the nation on Christmas Day, she's set to say 2019 has been a "quite bumpy" year, not just for her family for the nation.
In what is being seen as a nod towards the Brexit divisions which have, at times, fractured the nation, the Queen will comment on how "small steps taken in faith and in hope" can be significant, and ultimately break down "long-held differences."
Meanwhile, also jumping on the Christmas message bandwagon, a jubilant Boris Johnson popped up with his own message to the nation.
As you might expect from a man who just won a huge majority in a general election he was quite pleased, opening the speech with a cheery salutation, he said: "Hi folks, Boris Johnson here, taking a moment to wish you all a merry little Christmas. "
He recorded his message in Estonia while visiting British troops deployed there, he went on to praise NHS workers and all public servants who are on duty over Christmas.
The PM ended his message urging the nation not to have too many rows with the in-laws.
"Folks, I hope you enjoy the next few days. 
"Try not to have too many arguments with the in-laws, or anyone else. 
"And whoever you are, wherever you are, and however you're celebrating, have a very happy Christmas, and  I'll see you all again in the New Year."
The Christmas message from the Labour leader was not as upbeat, Mr Corbyn, in what will almost certainly be his last Christmas message as Labour leader, reflected ruefully on his catastrophic defeat while expressing his hope for a "better world"."This has been a difficult year for many of us.
"We didn't succeed in delivering the change that so many people so desperately need," he said.
"But Christmas is a chance to listen, reflect and remember all the things that bind us together: our compassion, our determination to tackle injustice and our hope for a better world."
Operation Santa
Maybe my favourite thing about Christmas is when the might of the US Military, with the help of Canada, turn their most advanced air defence system into a Santa tracker...
For 60 years, NORAD and its predecessor, the Continental Air Defense Command (CONAD) have tracked Santa's flight.
The tradition began in 1955 after a Colorado Springs-based Sears Roebuck & Co. advertisement misprinted the telephone number for children to call Santa. Instead of reaching Santa, the phone number put kids through to the CONAD Commander-in-Chief's operations "hotline." The Director of Operations at the time, Colonel Harry Shoup, had his staff check the radar for indications of Santa making his way south from the North Pole. Children who called were given updates on his location, and a tradition was born.
In 1958, the governments of Canada and the United States created a bi-national air defense command for North America called the North American Aerospace Defense Command, also known as NORAD, which then took on the tradition of tracking Santa.
Pets
Pet owners have been warned over leaving Christmas puddings and mince pies unattended amid a rise in dogs needing emergency treatment after wolfing down the toxic treats.

Raisins, sultanas and currants can be potentially lethal to dogs, with even small amounts capable of causing organ failure.

Vets say there is typically a sharp jump in poisoning cases involving raisins and alcohol during the festive period.

It comes after Marley, a five-year-old Staffordshire bull terrier from Stoke, needed a fluid drip and emergency medication after scoffing Christmas pudding and chocolate brought into the house by its owners.
No Time To Die
Rami Malek says the inspiration for his latest role as a Bond villain came from playing Freddie Mercury in Bohemian Rhapsody.
The actor told Empire magazine, the Queen singer taught him the importance of creating something original, instead of copying previous baddies.
Rami plays a character called Safin in "No Time To Die", which is released in April.
Breakdowns
It's claimed a car will break down on the UK's roads every 15 minutes in the run-up to Christmas.
Green Flag says one in ten British people have left their shopping to the final week - adding to the getaway traffic.
Drivers are being urged to check their cars are winter-ready before setting off.
Weather - White Christmas?
Headline: Fine and dry for the majority on Christmas Day.

Today: Rain over Northern Ireland, southern Scotland and northern England easing then moving southwards. Ahead of this over Wales and southern England some heavy showers, with thunder and hail in the southwest strong, gusty winds. A few lighter showers further north.

Tonight: Rain and showers clearing all but northern Scotland with winds easing for many, particularly the southwest. Chilly, particularly for the west, southwest and far northeast with frost and fog patches.

FURTHER OUTLOOK:
Wednesday: A fine Christmas Day for most after a cold start with fog patches slow to clear. Any showers in the north dying out. Cloudier and windier later in the west. Outlook for Thursday to Saturday: Rain and strengthening winds spreading east to all areas on Thursday. Rain becoming confined to the nor
And Finally...
(These are the heroes Boris Johnson and Jeremy Corbyn paid tribute to in their Christmas Messages BTW)
A lifeboat volunteer had her wedding blessing interrupted after she was called out to an emergency during the celebrations.
Rose Skelton rushed to Tobermory lifeboat station on the isle of Mull after her pager went off as she celebrated with her wife Nomi Stone.
Fortunately, there were more than enough crew and she was stood down and able to rejoin her wife and their families and friends.
The couple had their marriage blessed on Tobermory's Severn class lifeboat on Saturday in what is believed to be the first blessing of a same-sex couple to take place on an RNLI lifeboat.
They decided to have their marriage blessed there as Ms Skelton's grandfather John Lewis Leroy served as a volunteer crewman on the Dover RNLI lifeboat and his ashes were scattered by Tobermory's Arun class lifeboat Anne Lewis Fraser 20 years ago.
She said: "I had always wanted to be on the lifeboats after I grew up listening to my grandfather's stories about being on the Dover crew.
"Joining the Tobermory crew was one of the best things I've ever done and I'm so happy to see how the station has welcomed Nomi in as part of the family too.
"Having our marriage blessed here has been really special for both of us."
Ms Skelton, a freelance writer and journalist, and Ms Stone, an assistant professor of poetry at the University of Texas, Dallas, were married in November 2018 in Philadelphia.
As many of their friends were not able to attend, they decided to celebrate their wedding again with a special lifeboat blessing and a ceilidh on Mull, where Ms Skelton has been on the crew since 2015.
After being piped down Tobermory's colourful Main Street by the Mull and Iona pipe band, they were met by a guard of honour formed of members of the lifeboat crew holding the traditional RNLI wedding oars at the pier where the lifeboat was berthed alongside.
The couple both read a poem written by their friend Daniel Jenkins called Mull and Iona and Tobermory RNLI coxswain David McHaffie then led a short blessing.
Mr McHaffie said: "Rose and Nomi are part of our lifeboat family and it was an honour to be part of their marriage blessing.
"All of us at the station wish them fair winds and following seas."
Fair winds and following seas, well I wish all my regular readers the same and I hope you have an amazing Christmas Day.
The news never stops at LBC News, we'll be bringing you full coverage of the biggest stories over the festive period, and my briefing will return at the usual time on the 27th, during that weird limbo period between the day you get your presents and the day you have to start to get used to writing 2020.
Thanks for reading, EJ.