'The virus is closing in': Holidaymakers trapped as airlines cancel all Italy flights
10 March 2020, 11:20
Holidaymakers have told of their anger and frustration after major airlines cancelled all flights to and from Italy because of the country's nationwide lockdown to fight coronavirus.
British Airways said it had made the decision to cancel all Italy flights until April in response to the strict measures taken out by the Italian government.
It said: "We have updated our policy to give customers more options and flexibility.
"Any travellers due to fly to or from Italy between now and April 4 can rebook to a later date up until the end of May, move their destination to Geneva or Zurich, or receive a full refund.
"We recommend that any travellers continue to check their booking on ba.com for the latest information and ensure their contact details are up-to-date in the Manage My Booking section of the website."
It did not provide any details on whether the disruption would extend past Tuesday.
In a further development today, Ryanair and Jet2 also cancelled all flights to Italy until April.
These blanket cancellations have angered holidaymakers who were due to fly home on Tuesday, and sparked worries for those who have flights scheduled at later dates.
READ MORE: [Live]: Italy wakes up to 60 million people on lockdown
'I'm furious at BA dropping us'
Speaking to LBC News, Jess Nicholls said she was "very angry at BA for their total incompetence" after her flight from Rome on Tuesday was cancelled.
She said she decided on Monday "to do the right thing" and reschedule her original flight home from 14 March to Tuesday in order to "get home".
READ MORE: UK preparing to ask anyone with minor cold or flu to 'self-isolate'
After paying £120 in change fees, she said she was sent an email just after midnight to inform her that the new flight was no longer going ahead.
"Couldn't get a hold of anyone until after 7am as website and app wouldn't let us rebook. Agent admitting that only the 8am flight was going and all others were cancelled."
She added: "I'm furious at BA for just dropping us. I've flown with them for 20 years."
The 43-year-old has since booked a flight with Vueling on Tuesday evening, and currently waiting at the airport in the hope it will fly.
The situation in Rome as she left was "quiet" and "very sad", she said.
"Our taxi driver was very concerned about his job and restaurants were empty."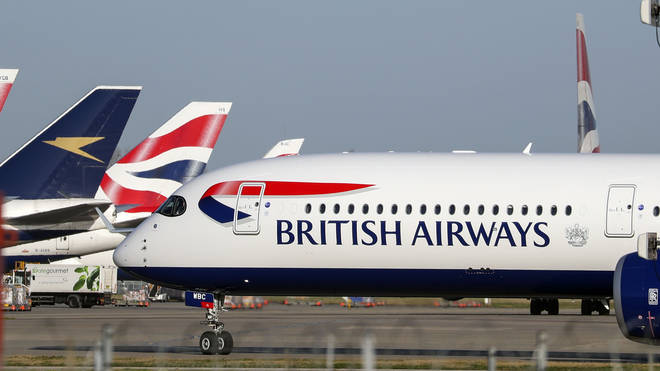 'It's clearly out of control'
Meanwhile, another British holidaymaker due to fly home from Verona on Saturday told LBC News she was "unsure of the current situation".
Speaking about the atmosphere in Verona, she said people were "very nervous" and that "everything is shutting down around us and food is starting to be rationed.
"Streets are deserted. We have followed strict hygiene rules, everything they said to do we have.
"Some restaurants were offering sanitation stations, some not - I think the virus is obviously closing in.
"We had believed that the Italian government could contain [the virus] given the lockdown areas, but it's clearly out of control now."
Ms Thomas said she had rebooked on a flight out of Salzburg, Austria, for Thursday.
"We understand it may be difficult getting across the border with Italian plates but we have no option but to try and get to Austria," she said.
READ MORE: 'Many thousands' will become infected with Covid-19

The amended schedule from British Airways was just the beginning of a long string of cancellations from airlines to Italy.
Ryanair and Jet2 have also cancelled all flights until April, while easyJet have cancelled the majority to the country's north.
It came after Italy - the European nation worst-hit by COVID-19 - placed the entire country on lockdown on Monday in a bid to curb the spread of the virus.