Coronavirus: Cruise ship couple David and Sally Abel test positive for virus
18 February 2020, 21:14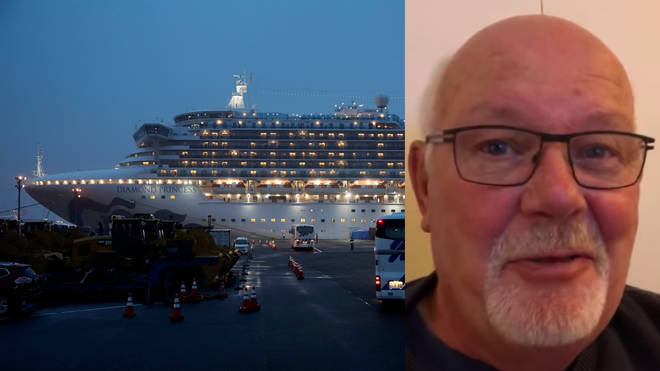 A British couple who have been quarantined with over 400 coronavirus sufferers on the cruise ship Diamond Princess, today said they had tested positive for the deadly bug.
David and Sally Abel had been posting regular updates via Facebook on what it was like being quarantined on board the ship with 454 people who are confirmed to have the disease.
In a post on Tuesday, Mr Abel said: "There is going to be a time of quiet. We have been proved positive and leaving for hospital soon. Blessings all."
In a later update Mr Able added: "Frankly i think this is a setup! We are NOT being taken to a hospital but a hostel. That's where partners are sent waiting out there quarantine.
"No phone, no wi-fi and no medical facilities. I really am smelling a very big rat here! Waiting for the transfer now.."
Yesterday Mr Abel called for the Government to evacuate the British citizens on board and added: "It feels that we have been forgotten."
The son of two British passengers on a quarantined cruise ship who have reportedly tested positive for coronavirus has said his parents are "not getting any communication" from the UK.
Steve Abel said the conditions on the quarantined cruise ship were making it difficult for his father to manage his diabetes and that he is also suffering from a tooth infection.
He added he could hear his father vomiting in the bathroom the last time he spoke to his mother on the phone but believed it might be due to "shock" rather than a symptom of the disease.
"The quarantine in Japan has been a failure, that is obvious, so (my parents) are obviously going to have to go through it again," Mr Abel said.
"I would like them to go through it here where the food is more suitable for my dad."
But he added: "I'm not actually that worried about the virus - looking at the recovery stats.
"It is more about the stress, the diet."
The Foreign and Commonwealth Office has said it hopes an evacuation flight for Britons on the coronavirus-hit cruise liner the Diamond Princess will be "later this week".
A spokesman said: "We are planning an evacuation flight from Tokyo to the UK as soon as possible for Britons who are on the Diamond Princess. We hope the flight will be later this week, subject to permissions from the Japanese authorities.
"At 0700 local time on Wednesday, the Diamond Princess cruise operator and Japanese authorities allowed passengers to disembark from the cruise ship. However there is a chance that people who disembark will not be able to join the evacuation flight.
"We have the utmost concern for the affected Britons and strongly encourage them to register for the evacuation flight."
Earlier, a Number 10 spokesman said those on board the ship docked near Yokohama, Japan, were being contacted about the possibility of a repatriation flight.