Coronavirus outbreak: Boris Johnson says we can 'turn the tide' within 12 weeks
19 March 2020, 17:31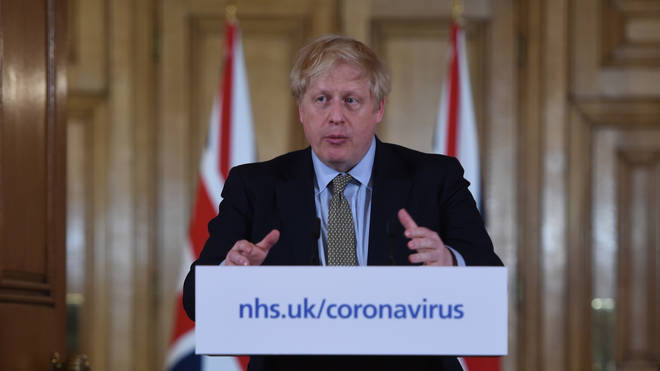 Britain can "turn the tide" of coronavirus "within the next 12 weeks," Boris Johnson has said.
The Prime Minister told a daily press conference on the Covid-19 pandemic that he is "absolutely confident we can send coronavirus packing in this country, but only if we all take the steps outlined."
When questioned on what this meant, the PM said he wanted us to "get on top" of the virus, saying the disease did "not seem yet to be responding to our interventions."
He said he it is "possible" that we could be on a downwards slope "by the end of June" but did say that was not a certainty.
Mr Johnson said the first British coronavirus patient has gone into a randomised trial for drugs which could treat the disease, in a bid to reduce the number of deaths.
Read more: Queen delivers message of solidarity to the UK
He also said testing is being ramped up to 25,000 per day, and the Government is preparing to buy "hundreds of thousands" of anti-body tests, which can tell if you've had the disease.
The PM reinforced calls to work from home if you can and to wash your hands in a "ruthless collective action" to succeed in beating the virus.
Read more: Italy overtakes China in total number of coronavirus deaths
Addressing businesses, he said: "I say to business, stand by your employees and stand by your workers because we will stand by you."
Mr Johnson thanked the public for the "huge efforts" they have taken in complying with the advice for the battle against Covid-19.
"We're asking students to put their education on hold, we're asking people not to socialise in the normal way and already we can see the impact this is having on the UK economy and on business, on great, great companies," he said.
"So it's vital that we in Government stand behind them when what we are asking everyone to do is so crucial for saving literally thousands of lives by fighting this virus."
But he did say the Government stood ready to take further action in London if people did not follow advice on social distancing, although he ruled out closing down public transport.
"If we feel that it isn't working and we need to bring forward tougher measure, nothing is ruled out," he said.
"It is vital that people follow that advice. There is huge evidence that they are (social distancing) in the takings of the retail sector, the hospitality sector, TfL (Transport of London) in inner London down about 50 per cent, in outer London 60 per cent, but some evidence that in parts of the capital it is very patchy and some areas where people aren't following it in quite the way we need them to do," he said.
He acknowledged there had been some "misunderstanding" over the Government's plans.
"There is no prospect of us wanting to stop public transport in London or stop the Tube or the buses," he said.
"We are going to want people to avoid gatherings where they transmit the disease. If it becomes necessary to do more to ensure that, we will certainly do so."
Mr Johnson said: "UK experts, scientists, expect to start trials for the first vaccine within a month. And above all we're getting better at testing."
He added: "To give you an idea of what is coming down the track, we're in negotiations today to buy a so-called antibody test, as simple as a pregnancy test which can tell whether you have had the disease and it's early days, but if it works as its proponents claim, then we will buy literally hundreds of thousands of these kits as soon as practicable.
"Because obviously it has the potential to be a total gamechanger."
Mr Johnson added: "That knowledge of where the virus is will make a huge difference to our management of the disease and our ability to reduce disruption and economic difficulty."
He said: "It's by this combination of ruthless, determined, collective action and scientific progress that we're already seeing that we will succeed.
"And I know how difficult it may be or it may seem right now, but if we do this together, we will save as I say many, many thousands of lives."
Chief medical officer Professor Chris Whitty warned there will be a "lag" before the public's efforts to stem the spread of Covid-19 will result in a slowing of case numbers.
"At the moment London from the coronavirus is under pressure but indirectly, but that's going to go up," he said.
"The first thing that will get under the greatest pressure will be intensive care and respiratory care system, that's the first point of real pressure on the NHS that's going to be happen.
"And to be clear: even if everybody does all the things we hope and really, really would ask that they will do, the numbers will continue to go up over the next two weeks because there's a lag until things start to improve."