Coronavirus: Sixth UK death as 373 people test positive
10 March 2020, 18:06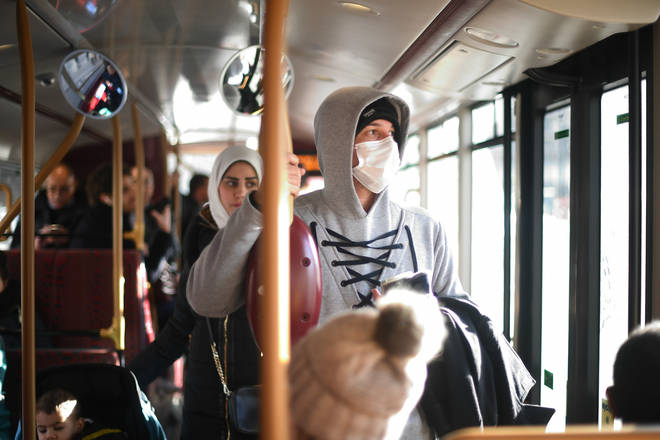 A sixth patient has died from coronavirus in the UK as the number of cases rises to 373.
NHS England confirmed the patient was an 80-year-old man with underlying health conditions.
He was being treated at West Hertfordshire Hospital NHS Trust.
It comes as latest figures show that 26,261 people have been tested in the UK, with 373 testing positive. This means that 25,888 were confirmed negative.
FOLLOW OUR CORONAVIRUS LIVEBLOG HERE
The UK's risk level has been raised from low to moderate.
Worldwide, almost 110,000 people have tested positive for coronavirus, and almost 4,000 have died.
In a statement on the latest death, West Hertfordshire Hospitals NHS Trust said: "Sadly, we can confirm that a man who was being cared for at Watford General Hospital, and had tested positive for Covid-19, has died.
"The patient, who died in the evening of Monday March 9, was in his early 80s and had underlying health conditions.
"His family has been informed and our thoughts and condolences are with them at this difficult and distressing time."
England's chief medical officer, Professor Chris Whitty, said: "I am sorry to confirm a sixth patient in England who tested positive for Covid-19 has sadly died.
"I offer my sincere condolences to their family and friends and ask that their privacy is respected.
"The patient, who was being treated by West Hertfordshire Hospitals NHS Trust, was in their 80s and had underlying health conditions.
"It appears the virus was acquired in the UK and full contact tracing has begun."
It comes as Transport for London has announced that virus-killing cleaning products will be used across the Tube and bus network to slow the spread of coronavirus.
The new cleaning regime will cover the areas that are most-touched by the hands of commuters, including poles and doors.
They will be wiped clean with hospital-grade disinfectant, TfL announced today.
TfL are also looking into using "spray backpacks" that can be worn by cleaners to spray the entire network.
On the new cleaning regime, Sadiq Khan, said: "I'm doing all I can to work with Public Health England and other experts to keep Londoners safe so I'm pleased that TfL is stepping up enhanced cleaning across the transport network.
"Along with trialling new longer lasting cleaning fluid, this will help reduce the risk of coronavirus spreading.
"I want to reassure Londoners and visitors that the advice from experts is to continue with our daily lives as normal, including using public transport."H
He also said the measures had been voluntarily adopted by TfL and that there were no specific concerns about using public transport.
In addition, all of Italy is on lockdown amid a serious coronavirus outbreak, with Brits advised against "all but essential travel" to the European nation.
Until now, the lockdown had only covered the Lombardy region and 14 provinces in neighbouring regions, but has now been extended to the whole country.
The Foreign Office issued a statement saying anyone who returns to the UK from Italy should immediately go into self-isolation.
spokesperson said: "We have amended our travel advice to recommend against all but essential travel to Italy."The safety of British nationals is always our number one priority.
"The advice is that anyone who arrives from Italy subsequent to Italian government decision should now self-isolate for 14 days."
People will only be permitted to travel for work or family emergencies from Tuesday in a bid to slow the Covid-19 outbreak.
There have been 9,172 people confirmed cases in the country, the second highest after China, with 463 deaths.
Meanwhile, as LBC News reported, anyone with cold, flu or fever symptoms is likely to be asked to stay at home in self-isolation before too long, England's chief medical officer has said.
Read more: Brighton shop owner asks customers to wear masks and gloves amid coronavirus fear
Professor Chris Whitty said the number of cases in the UK is going up and pointed to tighter measures aimed at protecting the public, particularly the vulnerable and elderly.
Read more: Family self-isolated due to 'people's fears' over coronavirus
On Monday Prime Minister Boris Johnson told reporters the UK will almost certainly move to the delay phase of tackling coronavirus, while the Foreign Office warned against all but essential travel to Italy.
Read more: 'Don't die, please buy' Glasgow newsagent sells out entire stock of coronavirus face masks