Coronavirus: virus-killing cleaning products to be used on Tube and London buses
10 March 2020, 14:15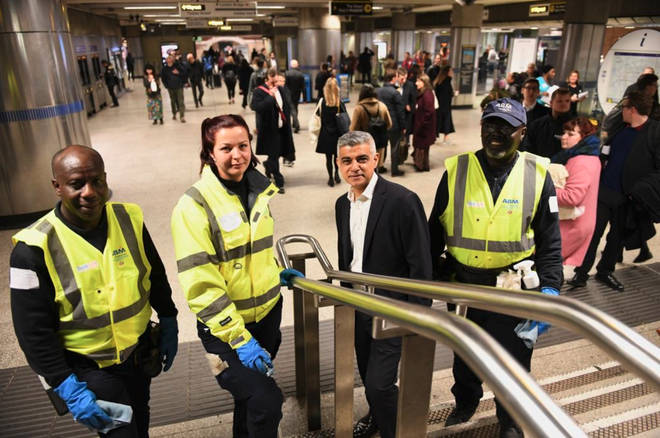 Transport for London has announced that virus-killing cleaning products will be used across the Tube and bus network to slow the spread of coronavirus.
The new cleaning regime will cover the areas that are most-touched by the hands of commuters, including poles and doors.
They will be wiped clean with hospital-grade disinfectant, TfL announced today.
TfL are also looking into using "spray backpacks" that can be worn by cleaners to spray the entire network.
It comes as the sixth death from coronavirus in the UK was announced on Tuesday.
READ OUR CORONAVIRUS LIVE BLOG HERE
Currently, Public Health England has said that public transport use is not likely to increase a person's chance of infection.
They still advise that people wash their hands regularly throughout the day, before eating and when arriving at work or home as the best way to protect against the virus.
The busiest London stations are also set to be cleaned during the day, rather than just the usual overnight clean.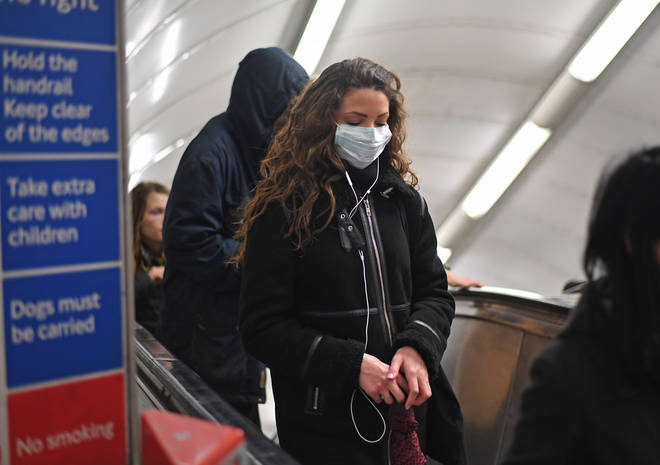 It comes just one week after Mayor of London Sadiq Khan said there was "no risk" of people catching coronavirus on London public transport.
Speaking on Good Morning Britain, Mr Khan said it is "important we don't spread panic or alarm" and urged politicians to "reply upon the best advice we have from the public health experts and from the chief medical officer."
"There is no risk in using the Tube or buses or other forms of public transport or going to a concert," he said.
On the new cleaning regime, Sadiq Khan, said: "I'm doing all I can to work with Public Health England and other experts to keep Londoners safe so I'm pleased that TfL is stepping up enhanced cleaning across the transport network.
"Along with trialling new longer lasting cleaning fluid, this will help reduce the risk of coronavirus spreading.
"I want to reassure Londoners and visitors that the advice from experts is to continue with our daily lives as normal, including using public transport."
He also said the measures had been voluntarily adopted by TfL and that there were no specific concerns about using public transport.
Lilli Matson, Director of Health, Safety and the Environment at TfL, said: "London's public transport system is one of the cleanest in the world. Public Health England has made it clear that people should go about their daily lives as normal but should wash their hands more regularly and thoroughly, which particularly includes when they arrive at work or home and before eating.
"If people are unwell, they are advised not to travel so as not to pass on illness to others. We want to give Londoners and our staff peace of mind that their safety is our priority, which is why we have enhanced our already rigorous cleaning regime.
"A lot of our cleaning goes on when stations are closed or trains are out of service, so to provide additional reassurance teams will be cleaning areas that are frequently touched throughout the day, in addition to the enhanced cleaning regime that all bus garages will be carrying out."
Meanwhile, as LBC News reported, anyone with cold, flu or fever symptoms is likely to be asked to stay at home in self-isolation before too long, England's chief medical officer has said.
Read more: Brighton shop owner asks customers to wear masks and gloves amid coronavirus fear
Professor Chris Whitty said the number of cases in the UK is going up and pointed to tighter measures aimed at protecting the public, particularly the vulnerable and elderly.
Read more: Family self-isolated due to 'people's fears' over coronavirus
On Monday Prime Minister Boris Johnson told reporters the UK will almost certainly move to the delay phase of tackling coronavirus, while the Foreign Office warned against all but essential travel to Italy.
Currently, in the UK 319 people have tested positive for Covid-19.
Read more: 'Don't die, please buy' Glasgow newsagent sells out entire stock of coronavirus face masks