Coronavirus: British Airways cuts 75% of flights while Tui suspends cruises
16 March 2020, 08:48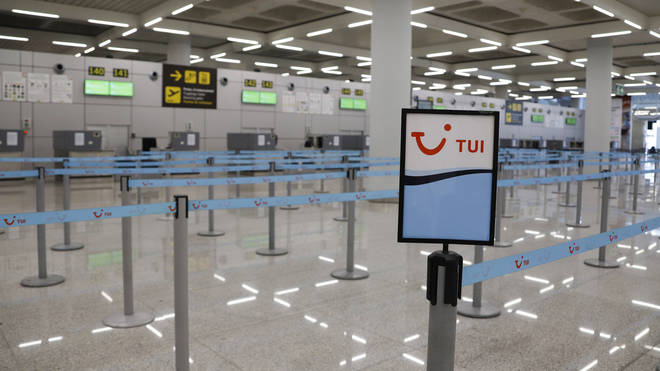 Holiday company Tui will suspend "the vast majority of all travel operations" including package travel, cruises and hotel operations due to Covid-19 while BA has axed flights.
The company said they made the decision in line with governmental guidelines to try and control the spread of coronavirus.
Travel company Tui said: "In this rapidly changing environment the safety and welfare of our guests and employees worldwide remains of paramount importance and thus Tui Group has decided, in line with government guidelines, to suspend the vast majority of all travel operations until further notice, including package travel, cruises and hotel operations.
Read more: Follow Monday's news live in our Covid-19 blog
"This temporary suspension is aimed at contributing to global governmental efforts to mitigate the effects of the spread of the Covid-19."
Read more: How long does Covid-19 live on surfaces? Is post from China safe?
Over the weekend the company cancelled all holidays booked to Spain.
In a statement on Saturday, the company said: "Following local measures put in place by the Spanish Authorities, including closing some hotel facilities and the local bars, restaurants and beaches we have made the difficult decision to cancel holidays due to travel between 14 and 16 March.
Read more: Coronavirus symptoms - What are they and what is the risk of Covid-19 in the UK?
"Although there is currently no advice from the UK Government against travelling to Spain it would not be the holiday experience we would want for our customers. 
"We will proactively contact all customers due to travel to Alicante between 14 March and 16 March to offer alternative holiday options or offer a full-refund.
"Any customers due to travel between 17 March and 23 March will be contacted about their holiday on Monday 16 March."
Other airlines across the globe have also announce they plan to make drastic cuts to flight schedules.
With British Airways' parent company IAG and easyJet both slashing schedules due to coronavirus
EasyJet said it has made "further significant cancellations" and warned that the "majority" of its planes could be grounded in the future.
IAG revealed that its capacity for April and May would be cut by "at least 75%" compared with the same period in 2019.
The "unprecedented level" of travel restrictions imposed by governments and "significantly reduced levels of customer demand" led to easyJet cutting its flight operations, the airline said.