Coronavirus: British couple describe what it's like to live in self-isolation abroad
9 March 2020, 11:34
A couple from Cardiff, who are in self-isolation in South Korea over coronavirus fears, say they feel trapped in their own home.
Mira Amin, 30, and Lloyd Price, 28, made their dream move to Asia in December, where they began teaching the local children English.
But following the outbreak of Covid-19 in the country, they've had to go into self-isolation in their flat in the city of Changwon.
Read more: Coronavirus symptoms - What are they and what is the risk of Covid-19 in the UK?
Mira, who's been writing about her experience in self-isolation on her blog, has told LBC: "We made the decision to move here on New Year's Day in 2019. We wanted to experience life abroad before we decided to settle down.
"We came out here on December 6th and it was all very calm. No one was talking about the Coronavirus".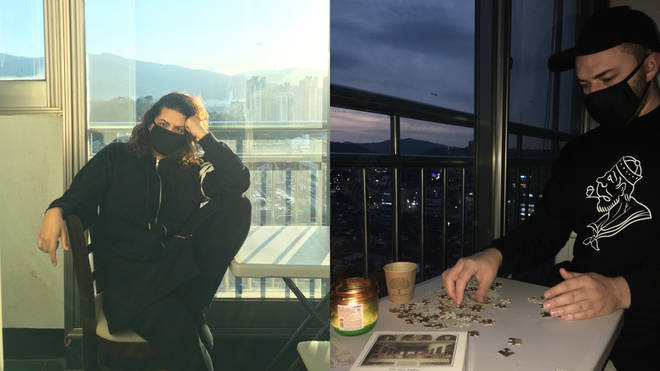 South Korea has become one of the hardest-hit countries outside of China. Their government reported 93 new cases on Sunday morning, taking the total to 7,134, including 50 deaths.
Read more: Coronavirus: Beard sanitiser sales spike after NHS urged staff to shave
Speaking about how quickly the virus spread in the country, Lloyd said: "We first started hearing about the disease in January.
"The pupils started coming into the school wearing face masks and we heard people in the streets talking about 'Corona' but we didn't understand because we don't speak Korean.
"It took about three weeks for things to build up. Two weeks ago there was one case in the city where we live. Now there's 20 to 30 cases.
"Some people have had to go out to work but restaurants are mostly empty – people don't want to go out anymore."
Read more: Coronavirus UK: Do surgical face masks work to avoid virus symptoms?
Mira went onto explain how simply going to the supermarket means having to go through a rigorous routine to limit the chance of infection.
She said "Lloyd usually has to prep by putting his face mask on and bring lots of anti-bacterial wipes and hand sanitiser with him.
"When we have to go together we run to the shop and run back. We've been advised to stop using take water so we have to take it in turns to full up and boil the kettle to wash food and ourselves.
"A lot has changed but we haven't had any choice to adapt."
This morning, the Welsh Chief Medical Officer, Dr Frank Atherton, confirmed two further cases – bringing the total in Wales up to six.
Read more: Coronavirus: What is a pandemic and how is one declared?
In a statement, he said: "Both individuals are being managed in clinically appropriate settings. All appropriate measures to provide care for the individuals and to reduce the risk of transmission to others are being taken.
"The first patient is resident in the Neath Port Talbot local authority area, and has recently returned from Southern Italy.
"The second patient is resident in the Newport local authority area, and has recently returned from Northern Italy.
"It comes after two other cases of Covid-19 in Wales, both of whom are from Pembrokeshire."
Read more: Prime Minister to hold Cobra meeting in wake of third death
It's understood they are both from the same household and recently returned from Northern Italy.