Coronavirus: Scientists demand 'more restrictive measures' to enforce 'social distancing'
14 March 2020, 22:42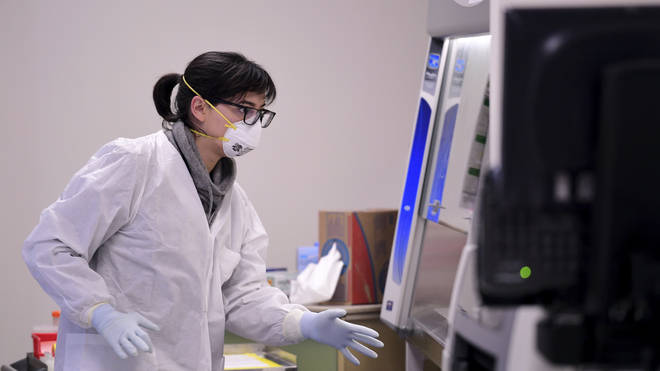 Hundreds of scientists have written to the Government urging immediate "more restrictive measures" be brought in to enforce social distancing, following the action plan it announced on Thursday.
The 245 UK people to support the open letter include scientists from a wide range of departments, while it is also backed by 29 international signatories.
Ten more patients have died in England after testing positive for Covid-19 since Friday while the number of confirmed cases has risen up from 798 to 1,140.
The UK death toll now stands at 21, with 20 deaths confirmed in England and one in Scotland.
Read more: How will coronavirus impact on the world of sports?
The letter says: "In particular, we are deeply preoccupied by the timeline of the proposed plan, which aims at delaying social distancing measures even further. The current data about the number of infections in the UK is in line with the growth curves already observed in other countries, including Italy, Spain, France, and Germany. The same data suggests that the number of infected will be in the order of dozens of thousands within a few days.
"Under unconstrained growth, this outbreak will affect millions of people in the next few weeks. This will most probably put the NHS at serious risk of not being able to cope with the flow of patients needing intensive care, as the number of ICU beds in the UK is not larger than that available in other neighbouring countries with a similar population."
The letter continues: "Going for 'herd immunity' at this point does not seem a viable option, as this will put NHS at an even stronger level of stress, risking many more lives than necessary.
"By putting in place social distancing measures now, the growth can be slowed down dramatically, and thousands of lives can be spared.
"We consider the social distancing measures taken as of today as insufficient, and we believe that additional and more restrictive measures should be taken immediately, as it is already happening in other countries across the world. We urge anyone who has sympathy with our views, and access to the government strategy group, to make our concerns more widely known."
Read more: How long does Covid-19 live on surfaces? Is post from China safe?
Meanwhile, the Scientific Advisory Group for Emergencies (Sage) has indicated that further measures to stop the spread of Covid-19 will be needed soon.
The expert panel has also agreed to publish the modelling and data considered by Sage in future.
After reviewing the latest data at a meeting on Friday, Sage has advised that the next interventions - shielding the vulnerable and household isolation - "will need to be instituted soon", officials said.
In a joint statement chief scientific adviser Sir Patrick Vallance and England's chief medical officer Chris Whitty said: "We are dealing with a very fast moving epidemic with emerging data from many disciplines and many complex decisions.

"Scientists across the world are helping each other, governments and society to deal with this international emergency."
Read more: Coronavirus symptoms - What are they and what is the risk of Covid-19 in the UK?
Read more: Coronavirus: Beard sanitiser sales spike after NHS urged staff to shave
A Government spokesman responded to the letter, saying: "As confirmed by SAGE today, as the epidemic progresses we will be instituting our next planned interventions soon.
"We also confirmed we will publish the modelling and data considered by SAGE. We continue to be guided by the advice of the CMO and the CSA."
A Department of Health and Social care spokesman responded to the scientists' letter, saying: "Herd immunity is not part of our action plan, but is a natural by-product of an epidemic. Our aims are to save lives, protect the most vulnerable, and relieve pressure on our NHS.
"We have now moved out of the contain phase and into delay, and we have experts working round the clock. Every measure that we have or will introduce will be based on the best scientific evidence.
"Our awareness of the likely levels of immunity in the country over the coming months will ensure our planning and response is as accurate and effective as possible."
Read more: Coronavirus UK: Do surgical face masks work to avoid virus symptoms?