'Don't die, please buy' Glasgow newsagent sells out entire stock of coronavirus face masks
4 February 2020, 09:48
A newsagents in the west end of Glasgow has sold more than 2,000 clinical face masks in a matter of days, after putting up a Coronavirus poster, reading 'Don't die, please buy'.
Partick Superstore saw a flurry of new customers over the weekend, including Chinese students from nearby Glasgow University, looking to buy face masks to protect them from the deadly virus, which originated in Wuhan City, China.
Priced at £1 each, with a multi-buy discount, the store's owner has told LBC News they sold out of their 2,000 supply in just three days, after people started to take pictures of his humorous poster and share them online.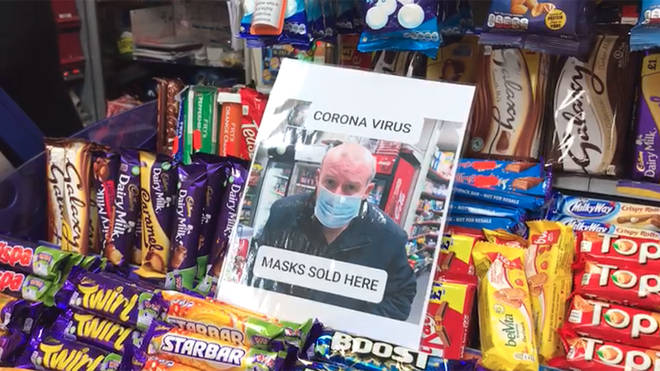 Nadeem Anwar said: "I've been selling surgical masks for the past three or four years and obviously now with the Coronavirus there's been a huge surge in demand for them.
"I managed to get some and thought I need to get the message out to the public and came up with some catchy logos and that's when I said 'Don't die, please buy – Coronavirus masks sold here' and for the past three days it's been absolute pandemonium in the shop."
The shop owner, whose business is on Dumbarton Road, told LBC News most people have taken his posters with a pinch of salt and popped in to buy some "for a laugh" but admitted most people who came in to buy them were seriously worried about the first cases being confirmed in the UK.
Mr Anwar said: "I was expecting them to sell throughout the week, not within two days. Most people who were buying the masks were not just taking a single mask, they were taking boxes of 50.
"And some of them it wasn't one box at a time, it was 'give me five boxes, give me six'."
The UK Government launched an awareness campaign over the weekend to help prevent the spread of germs linked to the virus, as 94 people are held in quarantine on the Wirral, after being flown home from Wuhan.
As part of that campaign, they're telling people to use a tissue when coughing or sneezing, binning the tissue and regularly washing hands.
Partick Superstore owner Mr Anwar added: "I know there's now a huge demand for sanitising hand gels as well and I was thinking about what I could do to follow on.
"So I'm going to get some in and make new posters saying: 'Wash and go, or go to God,' simple as that.
Nadeem Anwar says he's also expecting another delivery of clinical face masks to top up his stock in the coming days.
So far in Scotland, 26 people have been tested for the coronavirus, with no confirmed cases.
A Scottish Government spokesperson said:"There are currently no confirmed cases of Coronavirus (WN Co-V) in Scotland and the risk to the Scottish public remains low.
"We have robust arrangements to manage emerging diseases and are monitoring this situation closely."The current advice to travellers is against all but essential travel to Wuhan.
"Passengers should take precautions such as practicing good hand hygiene, personal and respiratory hygiene, and to minimise contact with birds and animals in markets in Wuhan or elsewhere in China."
"Any travellers returning from Wuhan or elsewhere in China who become unwell, particularly with respiratory symptoms, within 14 days of their return, are advised to call their GP or NHS 111 and report their recent travel."