Downpour hits UK coastline as 52 flood alerts issued
6 October 2019, 12:08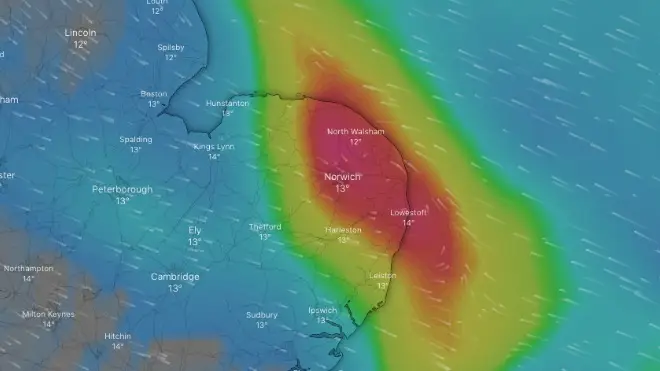 The Met Office has issued an amber warning of rain in the East of England that it predicts could "cut off" some communities by flooded roads.
A band of torrential rain is hitting parts of the UK after the agency upgraded their weather warning for the East of England to amber.
The amber warning, which lasts until 4pm on Sunday, suggests cancellations of bus and train services and damage caused by flooding.
The Environment Agency has also issued five flood warnings for Sunday where immediate action is required.
A further 47 flood alerts have been issued advising people to prepare for possible flooding across England.
The Met Office warned that homes and businesses could be flooded, with fast-flowing or deep water possible, causing "a danger to life".
Roads and train and bus services could also be disrupted, and some police forces have taken to social media to warn drivers of water on the roads.
Other locals hit by the torrential rain posted their reactions to the extreme weather on social media.
Previously set to cover an 18-hour period, the yellow warning has been shortened after heavy overnight rainfall in Scotland.
A second yellow warning, running from 8am to 5pm on Sunday, covers Lincolnshire and East Anglia.
Suffolk has already seen over 25 millimetres of rain in the last 12 hours, while overall eastern areas could be hit by 50 to 60 millimetres of rain on Sunday.
It comes after parts of the UK were hit by the remnants of Hurricane Lorenzo earlier this week.