Christmas motorists facing misery as 8 million predicted to travel today
20 December 2019, 08:14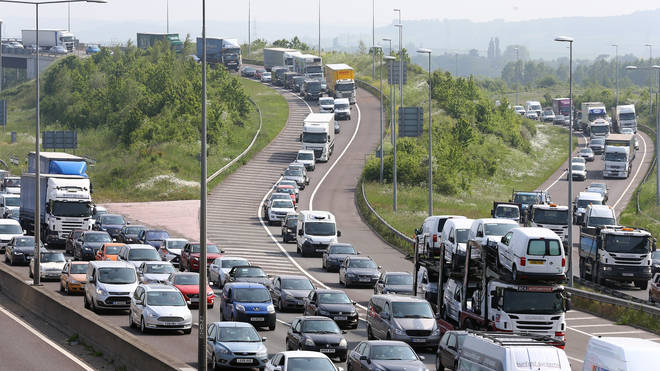 Friday is set to be one of the busiest days of the year for traffic with more than 8 million drivers expected to take to the roads across the UK as Christmas journeys combine with commuter traffic.
Traffic is expected to peak from 4pm on Friday, with delays to journey times on some stretches of motorway including the M25, the M5 between Bristol and Weston-Super-Mare and the M6 around Birmingham.
READ MORE: Major incident in south of England with over 200 flood warnings in place
Flooding and rain will add to commuting misery as parts of the road network were closed overnight in the South and West of the UK, and train services cancelled between parts of Sussex and London.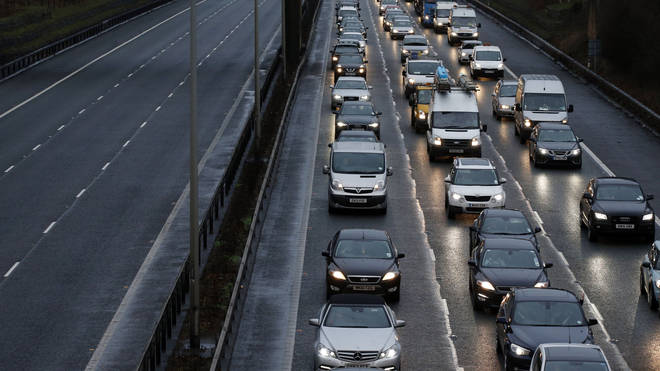 The AA has warned stretches of the M1 'smart' motorway from Luton northwards often suffer congestion from incidents or breakdowns, as can the M62 and M60 in the North West.
An AA-Populus poll found that 53per cent expect to drive on main roads and motorways on Thursday (19th) and 52 per cent on Friday (20th) – equating to more than 17 million drivers respectively.
More than two-fifths of drivers will be making journeys on Saturday as last-minute shopping traffic combines with visits to friends and family.
Later in the week on Christmas eve, nearly half of drivers will be making festive journeys. Reduced commuter traffic will to some extent be offset by increased leisure traffic, with more than one in five visiting family and friends.
Christmas day looks set to be one of the quietest on the roads. Last year, the AA helped rescue Christmas for just over 2,700 members who were unlucky enough to break down on Christmas day.
far fewer than the daily average of 10,000 breakdowns. This year, a third (33%) of drivers say they will be making a journey on Christmas day – equating to nearly 11 million.
UK's busiest roads
Friday 20 December: M25 Junction 13-24 (anti-clockwise), M1 Junction 11-22, M4 Junction 23-18, M60 Junction 18-12
Saturday 21 December: A4540 (Birmingham Bullring shopping centre), B225/A256 and A2 (Bluewater shopping centre)
Sunday 22 December: Steady traffic predicted
Monday 23 December: M4 Junction 15-19, M3 Junction 1-4, M1 Junction 19-12
Tuesday 24 December: M25 (all), M1 Junction 29-43, M4 Junction 2-12, M5 Junction 14-25, M27, M3 Junction 14 - M275 Junction 12
Wednesday 25 December - Steady traffic predicted
Thursday 26 December - M6 Junction 1-10a, M1 Junction 17-25, M60 Junction 18-24Christmas Eve
TfL says there will be a reduced tube service from around 16:00 (except Waterloo & City and Circle lines) with the last trains leaving at Sunday times.
For National Rail, ensure you check what time your last trains from London leave on Christmas Eve here.
These include final trains to Guilford leaving at 21:03 and Reading at 20:50 - both from London Waterloo. Peterborough at 20.30, Cambridge at 22:09, Newcastle at 19:30 and Edinburgh at 18.00, all leaving from King's Cross.
Christmas Day
TfL says the only transport running on Christmas Day will be taxis and private hire; Santander Cycles; and coaches.
National rail, tubes, the overground and bus services across the capital will be all closed as workers enjoy the day with their families.
Black cabs will charge an extra £4 per journey on Christmas Day and Boxing Day.
A top tip for Londoners is to use Santander Cycles, available for free throughout the Christmas season.
Make as many 30-minute journeys as you like within 24 hours free of charge by using the code SCXMAS19.