Drone images show River Severn at its highest level in almost 20 years
24 February 2020, 16:15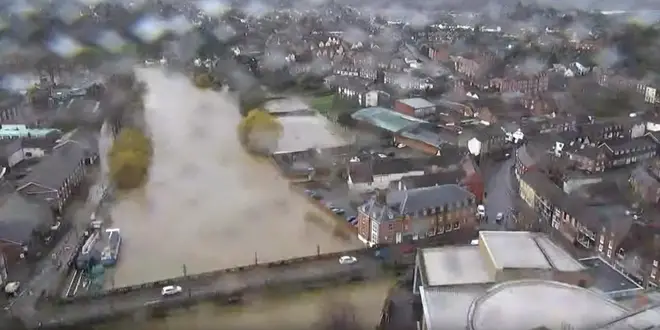 Drone images from Shrewsbury shows the River Severn approaching its highest level in 20 years.
Roads are shut across the town with severe travel warnings in place as river levels continue to rise.
According to the Environment Agency, 400 tonnes of water has been flowing through Shrewsbury every second.
It was thought today would be the highest levels, but the Environment Agency now said it thinks levels will continue to rise overnight.
Shrewsbury is one of two areas in the UK with severe 'danger to life' weather warnings for flooding still in place for the River Severn.
The other one is Wharfage in Ironbridge.
Flood warning are also in place for 31 other areas along the river.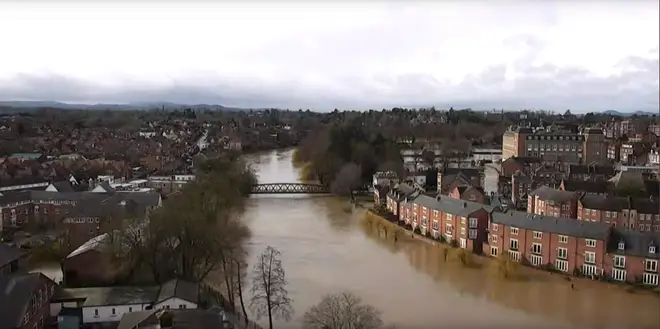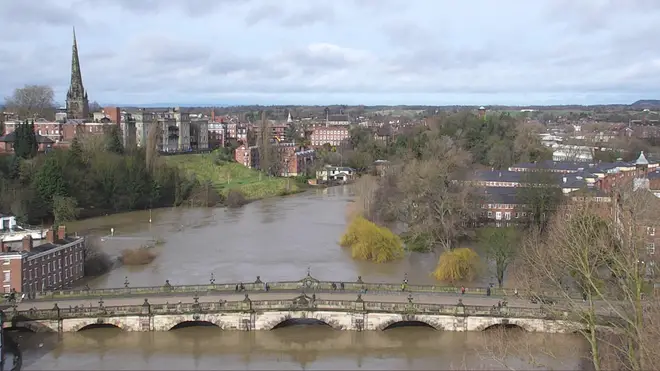 It comes as snow started to fall in other areas of the UK.
This morning, snow was falling in Scotland, as well as in parts of Cumbria, Northumberland, and Yorkshire.
In Leeming Bar, North Yorkshire, cars were pictured slowly making their way through the wintry conditions.
A yellow weather warning for snow is in place across the vast majority of Scotland, from the border, to north of Inverness, until late on Monday evening.
The Met Office has warned that rural communities could become stranded and told to expect delays and cancellations to travel plans by road, rail, and air.
Met Office forecaster Simon Partridge said: "It could be a pretty tricky commute first thing tomorrow for a lot of people."It's certainly turning more wintry."