Elon Musk 'set out to destroy me', cave diver claims
18 December 2019, 09:29
A hero cave-diver has said he felt "humiliated, dirtied and ashamed" after being branded a 'paedo' by Elon Musk.
Speaking to Good Morning Britain the first time since he lost a lawsuit against billionaire Musk, an emotional, Vern Unsworth said the Tesla founder made "disgusting" comments about him when all he was trying to do was rescue people trapped in a cave.
"Even some of this stuff that came out of the private investigator's report was disgusting. Even referred to me as a 'sex-pat w****monger'," Mr Unsworth said.
"He basically said he thought I was a random guy trying to take the spotlight, not realising I'd been two days off a 17-day rescue so I probably wasn't looking my best."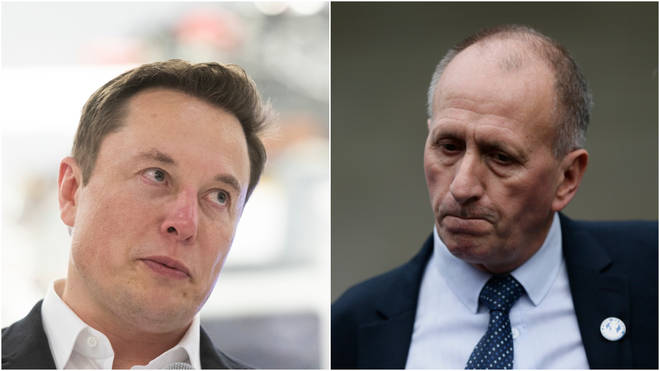 "He basically treated it as an insult. Insults are an instant reaction. He went out and researched before he sent those tweets. He tried to research me. 'Suspicious old guy in Thailand - paedo'."
In a series of tweets, Mr Musk called Vernon Unsworth "pedo guy" after he helped in the rescue of 12 boys from an underwater cave in Thailand in July 2018.
Mr Unsworth had previously criticised Mr Musk's offer of a mini-submarine to rescue the trapped boys, calling it a "PR stunt" and saying Musk could "stick his submarine where it hurts."
Mr Musk later apologised for lashing out on his Twitter and said in his defence, the term 'pedo guy' was a common insult used in South Africa when he was growing up.
'Humiliated, dirtied and ashamed.'

An emotional Vern Unsworth, the hero cave-diver who rescued 12 Thai schoolboys, gives his first interview since losing his lawsuit against billionaire Elon Musk, who called him a paedophile. pic.twitter.com/bOIOAKFzlc

— Good Morning Britain (@GMB) December 18, 2019
Vernon, whose efforts were rewarded with an MBE, launched legal action to sue the Tesla founder for defamation but the jury found in favour of Musk.
Speaking on Good Morning Britain, emotional Vernon said: "He set out to destroy me. Psychologically, I'm a tough guy. Hard on the outside, soft on the inside.