Boris Johnson's Brexit plan 'repackages bad ideas' say EU chiefs
3 October 2019, 22:26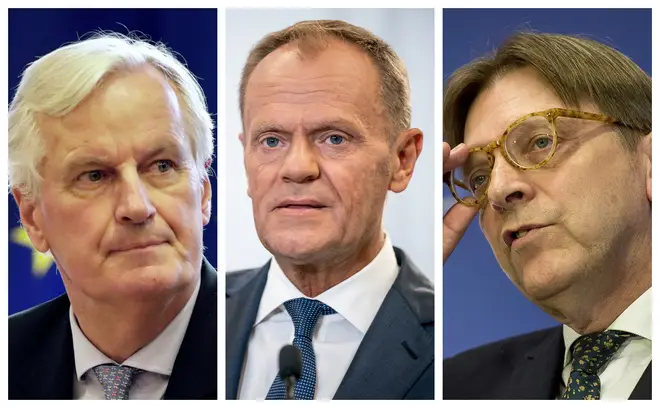 EU leaders have responded to the government's 'final' Brexit plan saying the European Council remained "open but still unconvinced" with the proposals.
The Council's President Donald Tusk spoke with Boris Johnson on the phone about the new plan for the UK to leave the European Union.
Mr Tusk confirmed he had two Brexit-related phone calls on Thursday with Irish Taioseach Leo Varadkar and Mr Johnson.
Today I had two phone calls on #Brexit, first with Dublin then with London.
My message to Taoiseach @LeoVaradkar: We stand fully behind Ireland.
My message to PM @BorisJohnson: We remain open but still unconvinced.

— Donald Tusk (@eucopresident) October 3, 2019
He reiterated his support for Ireland and left open the possibility of further negotiation with the UK.
A Downing Street spokeswoman confirmed the conversation was an opportunity for Mr Johnson to "set out the basis" for his proposals and the talks were still only at a "technical level".
She said: "We look forward to having further talks with the Commission in the coming days on the proposals we put forward yesterday and they are happening today with our officials, led by David Frost [the PM's chief negotiator], and Taskforce 50."
However the European Parliament's Brexit co-ordinator Guy Verhofstadt said it would be "nearly impossible" to agree to the prime minister's plans "because it's mainly repackaging bad ideas".
He said: "We have serious doubts about the seriousness of these proposals because today a memo was leaked, a memo sent by Downing Street to Tory MPs, to immediately blame the European Union.
"If such a document has really been sent to the Tory MPs you can have doubts about the seriousness of these proposals."
The @Europarl_EN has three fundamental problems with the UK's latest proposal:

1⃣ Harms Ireland's all-island economy
2⃣ lack of detail/not operational
3⃣ puts deal under custody of DUP

This is repackaging old, bad ideashttps://t.co/z7rDgCAmh6

— Guy Verhofstadt (@guyverhofstadt) October 3, 2019
European Commission President Jean-Claude Juncker held phone calls with Mr Johnson and Mr Varadkar over the last two days during which he "reaffirmed his unwavering support for Ireland".
A Commission statement said: "President Juncker confirmed that while the UK has made some progress, a number of problematic points remain in the proposal, on which further work is needed by the UK.
"President Juncker emphasised that the governance of the backstop should be stable and predictable.
"He reiterated that the Withdrawal Agreement must have a legally operational solution now, and cannot be based on untried arrangements that would be left to negotiation during the transition period."
The UK government's Brexit Secretary Stephen Barclay said his conversation with EU chief negotiator Michel Barnier showed it was clear the EU recognises the Mr Johnson's ideas as a "serious set of proposals".
I updated @Europarl_EN & EU27 on #UK's proposals. EU wants a Withdrawal Agreement w/ workable and effective solutions that create legal and practical certainty now. We owe this to peace & stability on the island of Ireland. We must protect consumers & businesses in the EU market.

— Michel Barnier (@MichelBarnier) October 3, 2019
Mr Barnier reassured people that he and the EU want a withdrawal agreement that has "workable and effective solutions" that "protects consumers & businesses in the EU market".
The prime minister is expected to meet with French President Emmanuel Macron and German Chancellor Angela Merkel "in the coming days and weeks".
Mr Varadkar has also expressed concern with Mr Johnson's Brexit plans whilst speaking on a visit to Sweden, saying they "fall short in a number of aspects".
Swedish prime minister Stefan Lofven, who held talks with the Taioseach in Stockholm, said his country stood with Ireland.
"Sweden stands in solidarity with Ireland, we all remember the violence during the Troubles very clearly and the Good Friday Agreement must not be put at risk," he said.