Extinction Rebellion activists block Oxford Circus on penultimate day of protests
18 October 2019, 11:20
Police have cleared Extinction Rebellion protesters from Oxford Circus after they defied a London-wide ban on their demonstrations by blockading the area.
A cherry picker arrived at Oxford Circus to remove activists perched on a wooden pyramid built with tripods.
Activists had earlier erected the bamboo structure on the major shopping road in central London in defiance of a ban on its protests. 
In a post on Twitter, the climate change group said they were targeting Oxford Circus as it was a "hub of luxury good for the wealthiest in the world."
They said fashion is responsible for "more emissions than shippings & aviation combined" and "1.5 trillion litres of water" go into making clothes.
Since Extinction Rebellion protests began on 7 October, 1,739 activists have been arrested, but after the chaotic scenes at Oxford Circus this morning, the number has risen to 1,768.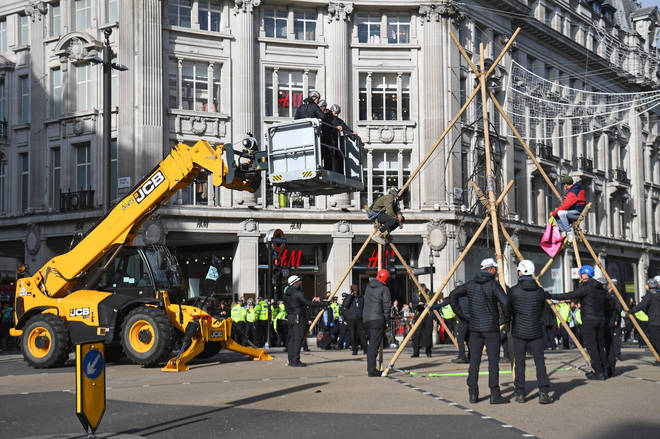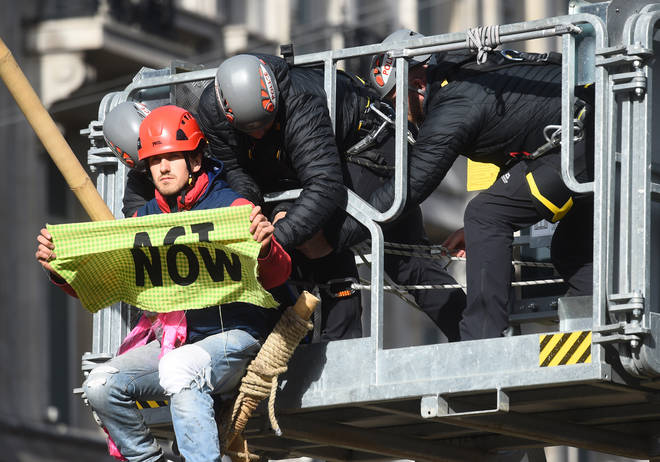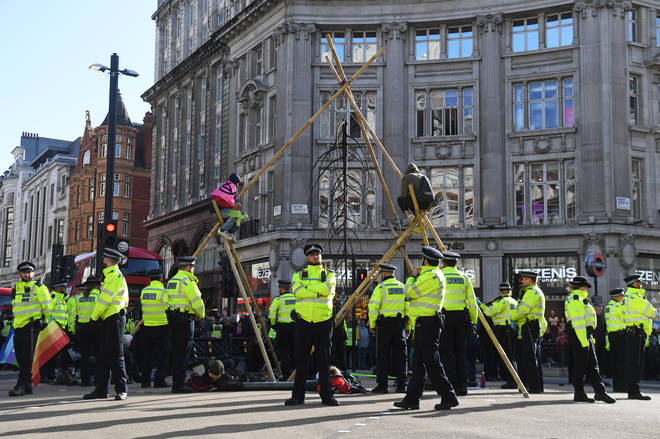 The group faced a backlash yesterday after protesters tried to stop trains on London's tube network yesterday, only to be fiercely attacked by a mob.
Extinction Rebellion were forced to call off their planned protests at Gatwick airport "in light of" the negative response they received from their actions on the tube.
Around 30,000 people are estimated to have have been involved protests around at 12 key sites around Westminster, government buildings, Trafalgar Square and at London City airport, where one protester perched himself on top of a British Airways plane.
This is not the first time Extinction Rebellion have blocked Oxford Circus.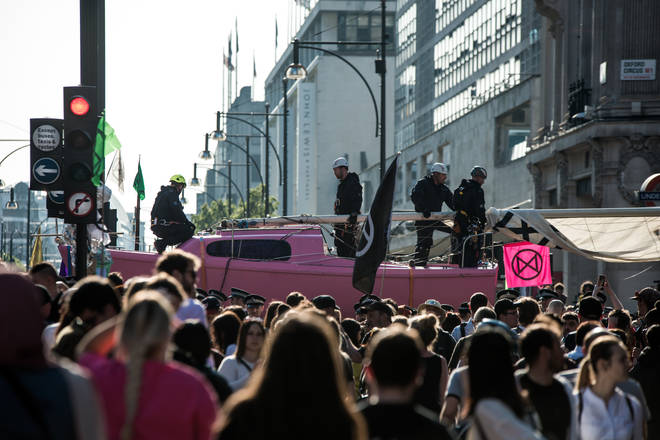 In April this year their protesters shut down the area for several days and parked a pink boat in the middle of a roundabout. 
Over 1,100 people were arrested at Extinction Rebellion's protests in April, which brought several parts of London to a standstill.
Extinction Rebellion predicted that its October "Autumn rebellion" would be five times bigger than the April protests.
Prior to the October uprising, Extinction Rebellion said more than 2,000 people had signed up prepared to go to prison, more than 4,000 prepared to be arrested and 1,700 willing to go on hunger strike.
Specialist police teams from forces have been deployed to deal with the planned civil disobedience.
Up to 500 officers from forces all over England and Wales have been moved to London during the two weeks of environmental action.
In climate action elsewhere in London today, fashion designer Dame Vivienne Westwood joined members of Free West Papua and Extinction Rebellion activists outside the head office of BP, where they were delivering a report on the company's activities in West Papua.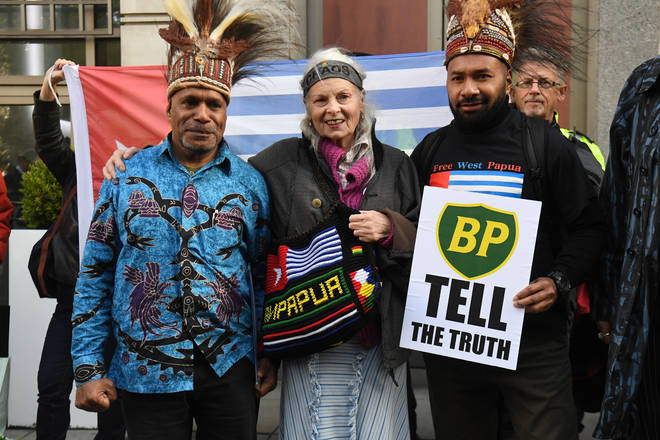 As for her own industry's obligation to the environment, Vivienne Westwood spoke at a conference at the Landmark hotel in Marylebone last night, stressing the importance of "quality not quantity" in fashion.
"What that means is that my husband Andreas does the most beautiful T-shirts and they are in cotton and they cost at least 500 quid, because the work that's gone into them, the process and everything, " the luxury fashion designer said.