Extinction Rebellion ignore police ban with protest in Trafalgar Square
16 October 2019, 16:28
The environmental activist group have returned to Trafalgar Square in defiance of a Metropolitan Police enforced "ban" against their "autumn uprising" protests, which have been taking place in London since last week.
Extinction Rebellion have taken to Trafalgar Square to protest the Section 14 order put in place by the Metropolitan Police force to prevent further protest in London.
It came as the Metropolitan police issued a revised section 14 order stating "any assembly linked to the Extinction Rebellion 'Autumn Uprising' ... must now cease their protests within London".
It has also been confirmed that the group's application for judicial review has been accepted by the High Court
The group also announced that they a direct challenge to the police ban with a rally in Trafalgar Square on Wednesday to put police and government "in a dilemma as to whether they are going to arrest public figures for peaceful, democratic assembly".
The group called the order a "chilling assault on civil rights".
On Monday, the police attempted to end the demonstrations by clearing hundreds of protestors from Trafalgar Square.
Over the past two weeks, protesters have blocked roads and glued themselves to buildings in high profile spots across the city to further their demands, with more than 1,600 people being arrested. 
A statement from Extinction Rebellion read: "Following the decision to ban peaceful protest in London, we are calling on everyone to assemble in Trafalgar Square to defend our civil liberties."
Lawyers for XR were at the High Court on Wednesday to apply for a judicial review of the ban, amid claims that the order is not legal and breaches the right to protest.
Taking to Twitter, the group said: "Huge presence in Trafalgar Square in defiance of government clampdown on peaceful protest.
"The government must launch a comprehensive response not cower behind the police."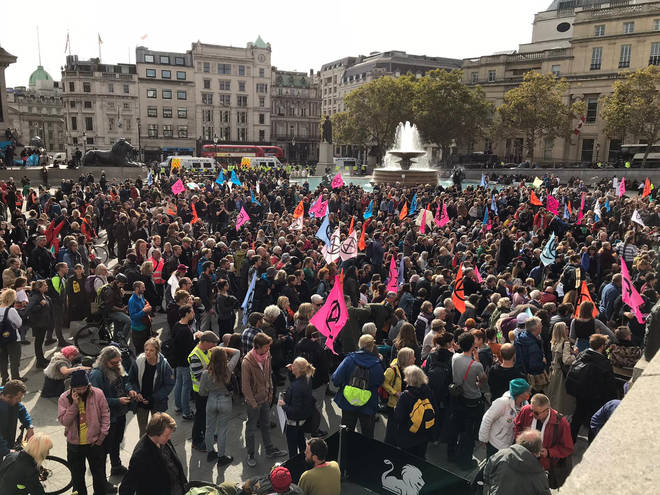 Huge presence in Trafalgar Square in defiance of government clampdown on peaceful protest.

The rebellion is growing as the climate emergency is accelerating.

The government must launch a comprehensive response not cower behind the police.#ExtinctionRebellion

📸Ben Gillespie pic.twitter.com/TDxbRX0NJa

— Extinction Rebellion London (@XRLondon) October 16, 2019
Deputy Assistant Commissioner Laurence Taylor, who is leading the policing of the demonstrations, has defended the move by the force.
He said he is "completely comfortable" with action taken by the Met. 
Mr Taylor said: "We are very confident that what we've done is entirely lawful, entirely proportionate in the circumstances, and we are completely comfortable with the position that we maintain."Despite the police crack down on the actions, which have seen sites cleared out and protesters arrested in swathes, protesters have vowed to continue. 
Asked if officers will arrest everyone who attends Trafalgar Square on Wednesday, Mr Taylor added: "We will take a balanced and proportionate response to whatever we're faced with, as we have done since Monday.
"If people do assemble at Trafalgar Square they are clearly in breach of the section 14 conditions and are therefore liable to arrest."As with all policing we will review the situation and will make decisions that are appropriate to those circumstances. But people, if they gather there, are liable to arrest."
After rousing speeches on Trafalgar Square maybe 2,500 people now sitting in circles of 10, participating in XR's democratic decision-making process (people's assembly) to consider how to respond to govt. silence on Climate & Ecological Emergency in face of attempt to silence us? pic.twitter.com/9rSVz3pdi2

— Extinction Rebellion UK 🕊️ (@XRebellionUK) October 16, 2019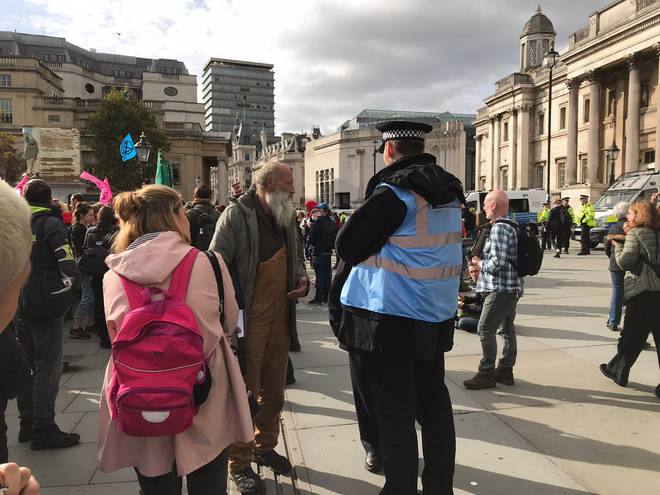 Extinction Rebellion previously said some 5,000 protesters were prepared to be arrested for the cause. 
The action in Trafalgar Square has been attended by Green MEPs, including Ellie Chowns, who made a speech to protestors.
The Green Party co-chair, Jon Bartley, was also arrested during the demonstrations.
XR activists walked a "Trojan horse" around embassies in London on Wednesday to highlight ecocide, while mothers and babies gathered outside Google's headquarters to blockade the doors in another protest. 
There are plans to target the Tube network on Thursday. 
So far 1,642 protesters have been arrested, and 133 charged.
Extinction Rebellion have stated their tactics are to overwhelm the capacity in police custody, including by refusing bail after being arrested.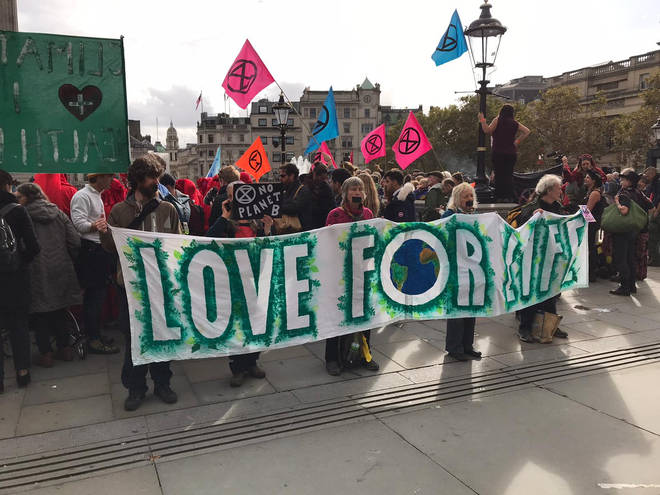 Craig Bennett, CEO of Friends of the Earth, says, "Thank you, Extinction Rebellion! You are making things possible that weren't before.
And when the Government bans even lawful assembly and peaceful protest, you know they're losing."
WE are winning!
Please RT to agree. pic.twitter.com/8H3iBo55Ve

— Rupert Read 🌍 (@GreenRupertRead) October 16, 2019