Extinction Rebellion take police to court over London protest ban
24 October 2019, 13:32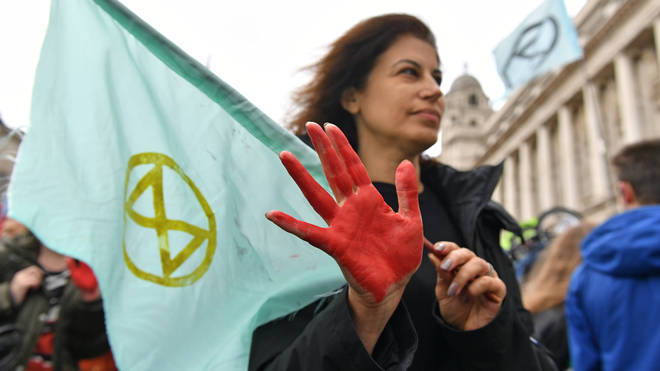 Extinction Rebellion are in court today to challenge the Metropolitan Police over a temporary ban imposed on the group's recent protests in London.
The climate activism group, which staged a series of protests disrupting the capital last week, says it hopes judges at the High Court hearing on Thursday will find the police ban to be "unlawful".
Among those bringing the judicial review on behalf the group is Green Party MP Caroline Lucas, who said the ban had marked a "huge over-reach of police powers".
"The police use of a Section 14 order to ban all Extinction Rebellion protests across the whole of London was a huge over-reach of police powers," she said.
"The power is there to help the police manage protests, not shut them down altogether."
Police enacted conditions under Section 14 of the Public Order Act last Monday in a bid to halt the demonstrations planned as part of the group's Autumn Uprising.
It cited part of the legislation in a statement that said it could "impose conditions on a public assembly where it is believed serious public disorder, serious damage to property or serious disruption to life of the community may result, or it is believed the organisers of that assembly will intimidate or compel others to do unlawful acts."
The Met said on Friday that it had charged 154 people for offences including breaches in conditions of the order, bringing the total number of arrests from the overall protests to 1,832.
It eventually lifted the conditions on Friday evening.
Human rights lawyer Tobias Garnett said in a statement on Thursday that the ban was an "unprecedented and disproportionate curtailment of the right to protest, which risks criminalising those who want to call attention to the climate and ecological emergency."
He added: "Rather than waste its time and money on attempts to silence protest, the government should focus on meaningful action against the biggest threat we face."
Meanwhile, Extinction Rebellion says it expects to hear a judgement on its case in the next two weeks.
"If the Court finds in Extinction Rebellion's favour, it will reestablish the right to peaceful protest and render unlawful the arrests of hundreds of protesters detained under the blanket ban," it said.