Extinction Rebellion protesters daub Big Ben hoarding with 'black paint'
26 February 2020, 12:11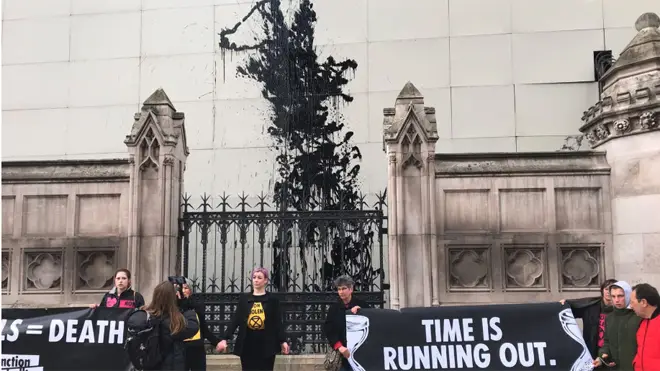 Extinction Rebellion protesters have slathered a black substance up the side of a hoarding on the side of the Elizabeth Tower as part of an environmental protest.
Protesters were seen at the site holding up banners saying 'Time is Running out' - calling for changes to be made 'if the human race is going to survive.'
A column of what looked like black paint could be seen plastered up the boards covering up scaffolding at the base of the tower. Protesters at the scene told LBC News that the substance was a sort of biodegradable syrup.
Earlier today the group targeted a opencast mine in County Durham.
There was a flashpoint between protesters and security staff when one tried to get under a barrier fence but was stopped from getting in, as a guard dog barked noisily beside him.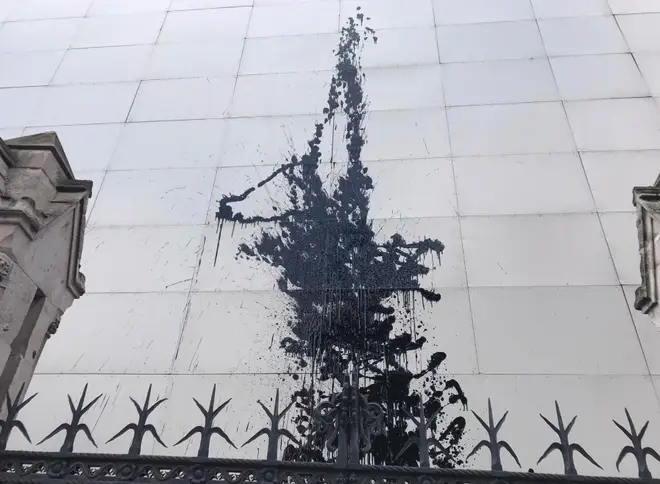 Extinction Rebellion campaigners chanted: "We are non-violent", while the man was prevented from getting under the fence.
The Banks mining company said coal was necessary for the steel and cement industries, and if it was not produced in Britain, even more would be brought in from Australia or Russia.
Mark Dowdall from The Banks Group said: "XR's ill-conceived demands will directly exacerbate the problem they are looking to solve.
"Until viable alternatives are in place, five to six million tonnes of coal will still be needed each year in the UK as a raw material for our steel and cement industries, so that we can build much-needed infrastructure including new wind and solar farms, houses, roads and railways."