Extinction Rebellion protesters dragged from top of Tube train by angry mob
17 October 2019, 09:03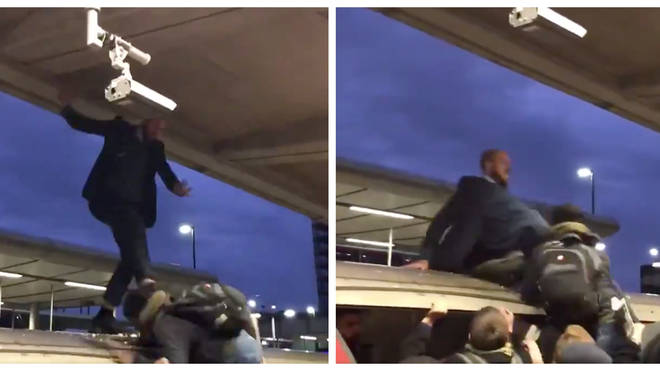 Extinction Rebellion has called off protests at Gatwick Airport after activists were dragged off the top of a train in a furious clash at an east London Tube station.
A spokesperson for the climate action group said they called off the planned protest "in light of" the response they received this morning - which saw an angry mob haul protesters off Tube trains before roughing them up on the platform.
The group added it would "take stock" before targeting the Underground any further.
Furious passengers were seen grabbing the ankle of one activist on top of a train at Canning Town this morning, who was holding a sign saying "Business as usual = Death."
The bearded protester arrived at the east London station this morning and was one of two to climb on top of the train as members of the public jeered at him to get down.
One passenger threw what appeared to be a cup of coffee over him.
Members of TfL staff were also seen holding commuters back from the protester as tensions ran high.
The climate change group have been targeting the tube network during rush hour as part of their so-called "Autumn Uprising", bringing misery to thousands of commuters trying to make their way into work.
Eight protesters have also been arrested after they glued themselves to the front of the Supreme Court building in London.
Extinction Rebellion spokesperson Fergal McEntee told LBC this morning's demonstrations at London Underground and DLR stations were a "huge own goal".
Mahatir Pasha, who filmed the video, told GMB: "When I was there it was absolutely shocking scenes. I didn't expect to see anything like it.
"We heard a big thud on top of the train. The driver made a short announcement. One like I've never heard before: 'Hey what are you doing', and the line cut off.
"I saw two men standing on the train. They pulled out a banner. They said something along the lines of 'We're all going to die".
She added that one of the people on the platform shouted: "Look I'm just trying to get to work and feed my kids.'
"A lot of commuters would have been working class trying to make their daily bread. I find it ironic they are coming from middle class educated backgrounds."
So far, police have mad four arrests at Stratford and Canning Town underground stations, and "specialist teams" are currently at Shadwell DLR station to remove four protesters.
British Transport Police said on Twitter: "At this time we have three separate incidents involving Extinction Rebellion protest action at Stratford, Canning Town, and Shadwell.
"Arrests have already been made and officers are working quickly to resume services."
There are delays on the Jubilee line and Docklands Light Railway following the incident.
Assistant Chief Constable Sean O'Callaghan, said the force is "disappointed"the group are targeting the London Underground.
He added: "The Tube and rail networks are one of the greenest transport methods in London, any action goes against what they campaign for and will only cause misery for London's commuters. 
"In addition to this, we've made it clear to Extinction Rebellion that disrupting Tube services could create a dangerous scenario where some trains are stuck within tunnels with hundreds of passengers on board.
"Likewise, trespassing or obstructing Tube services could create a serious hazard to protestors."
He warned that anyone arrested for trespassing on a railway could be facing a prison sentence.
London Mayor Sadiq Kan has also released a statement condemning the protests.
In a full statement, he said: "I strongly condemn the Extinction Rebellion protestors who have targeted the London Underground and DLR this morning."