Extinction Rebellion to fight London protest ban in court
15 October 2019, 16:41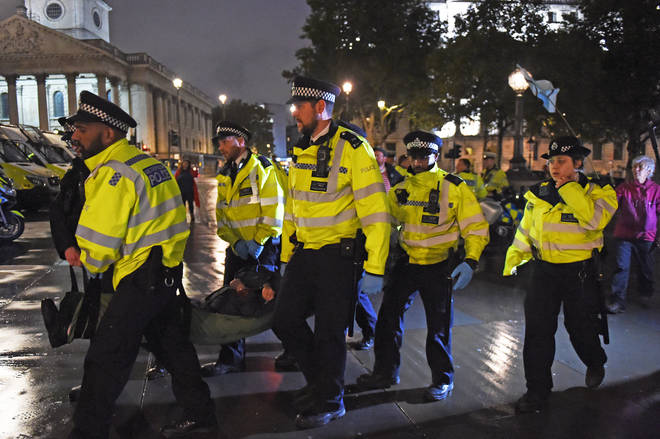 Extinction Rebellion has said it will fight a Metropolitan Police ban on activists protesting in London.
The environmental action group has threatened legal action against police after what they call a "chilling assault on civil rights".
The letter is a prelude to a judicial review and Extinction Rebellion have described the ban as a "disproportionate and unprecedented attempt to curtail peaceful protest".
Politicians, civil rights campaigners and environmentalists have condemned the police crackdown.
London Mayor Sadiq Khan has issued a statement appearing to distance himself from the Met's decision.
I'm seeking further information from senior officers about the operational decision to impose a section 14 order on the Extinction Rebellion Autumn Uprising – and why this was necessary.

My full statement: pic.twitter.com/IXbsOIy9bp

— Sadiq Khan (@SadiqKhan) October 15, 2019
Mr Khan took to Twitter to question the move, saying: "I am seeking further information from senior officers about the operational decision to impose a section 14 order on the Extinction Rebellion Autumn Uprising – including at Trafalgar Square – and why this was necessary.
"I believe the right to peaceful and lawful protest must always be upheld. However, illegal action by some protesters over the past eight days has put undue pressure on already overstretched police officers, and demonstrators should bear this in mind when considering any further actions."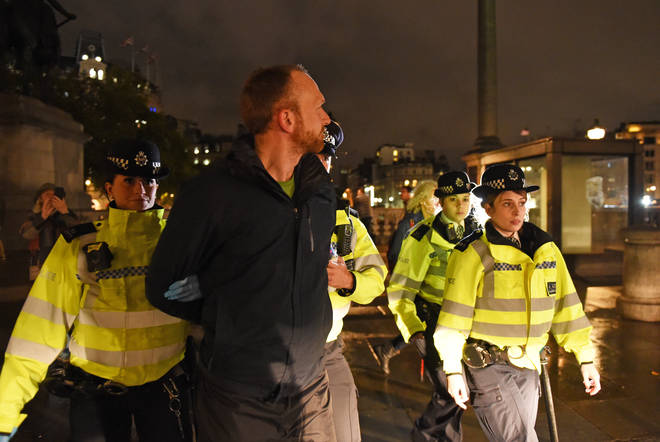 The police attempted to end the demonstrations, which have been ongoing since last Monday, by clearing hundreds of protestors from Trafalgar Square.
It came as the Metropolitan police issued a revised section 14 order stating "any assembly linked to the Extinction Rebellion 'Autumn Uprising' ... must now cease their protests within London".
The group also announced that they a direct challenge to the police ban with a rally in Trafalgar Square on Wednesday to put police and government "in a dilemma as to whether they are going to arrest public figures for peaceful, democratic assembly".
The protests also continued on Tuesday, with action at the Department of Transport and near the MI5 building.
A protestors has also caused a lockdown around parliament after a protestor scaled the gates of Westminster.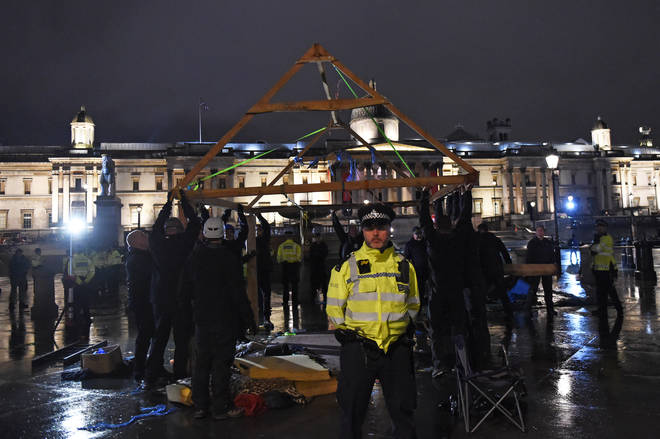 At the London assembly's police and crime committee on Tuesday morning, the Met deputy commissioner, Sir Stephen House, denied a suggestion by the Green member Sian Berry that the revised order was disproportionate.
"We are not saying, Extinction Rebellion you cannot protest in future. What we are saying is that, in relation to this demonstration, it must now cease, because it's been going on for 10 days," he said.
The Met was paying a heavy financial and operational price for policing the protests, House said. The decision had been taken with the approval of the commissioner, Cressida Dick, and Extinction Rebellion was given 48 hours notice that Trafalgar Square would be cleared, the committee heard.
Extinction Rebellion have taken to Twitter to dispute the Section 14 Order and say they will be continuing with peaceful protests throughout London.
This is the fight of our lives & it has so many fields & dimensions.

Science, law, finance, engineering, architecture, education, health, transport, industry & more & it's woven with the inequities of race, gender, class, age, sexuality, citizenship, disability.#EverybodyNow pic.twitter.com/CY8f2g3cqz

— Extinction Rebellion London (@XRLondon) October 15, 2019
"This is a heavy-handed & unacceptable move by @metpoliceuk. Certain disruption to ordinary life for protesting is natural, & needs to be tolerated. The police must respect the rights of those peacefully protesting & ensure they are allowed to be heard."
https://t.co/xVjeZ9noRy

— Extinction Rebellion London (@XRLondon) October 15, 2019
On Tuesday morning police confirmed they had made 1457 arrests during protests which have closed down parts of the capital.
One of the group's co-founders, Gail Bradbrook, who climbed on top of the entrance of the building in central London and "lightly" hit the glass with a hammer, said she was taking action for trees threatened by HS2.
She said: "I do this in fierce love of the 108 ancient woodlands threatened by HS2, this climate crime of a project.
"Imagine the good we could do with HS2's anticipated cost to rapidly accelerate towards our demands to halt biodiversity loss and reduce greenhouse gas emissions to net zero by 2025.
"If the Government is serious about plans to meet the net zero target they need to stop funding destructive projects such as HS2 and airport expansions."
Mrs Bradbrook was later arrested. An image from the scene showed Dr Bradbrook standing on a cherry picker outside the building.