Family of police officer killed in crash pay tribute to 'loyal and loving' man
18 September 2019, 16:57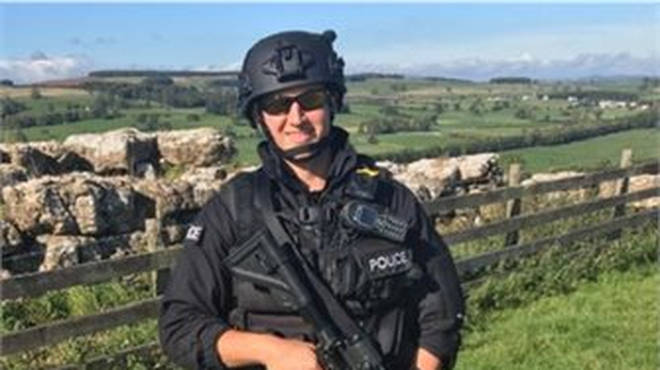 The family and colleagues of an off-duty police officer killed in a motorbike crash have paid tribute to a "loving and loyal" man.
PC Oliver Evans, 27, died on Monday afternoon when his motorcycle collided with a van near Sedbergh in Cumbria.

He was pronounced dead at the scene. The driver of the van did not suffer any injuries.

In a statement on Wednesday, Mr Evans' family said they were "heartbroken" by the loss, recalling the 27-year-old as "a true delight to be around".

It added: "He always had a story to tell, entertaining his family and friends with tales of his adventures, his smile and vibrant personality filling the room.

"Oliver had a mature outlook on life and there is no doubt that he was wise beyond his 27 years."

It went on to pay tribute to "a confident and headstrong individual" and credited his "unwavering hard work and ambition" to his dreams of becoming a police officer.

"Oliver's policing career began from a dream borne out of a visit to the Mobile Support Group at Ulverston Police Station when he was just 16 years old," the statement continued.

"The MSG sergeant at the time recalls how he listened intently to the officers with whom he spoke and the huge smile as he was introduced to the kit and equipment used by the team."

Mr Evans later joined the force with the Lancashire Constabulary while he studied for a degree in Police and Criminal Investigation at university.

After completing his degree, he took on regular service with Cumbria Constabulary in "a place where Oliver loved to live and serve".
Meanwhile, Chief Superintendent Rob O'Connor from Cumbria Constabulary said the police constable's death was "being felt extremely deeply by his colleagues".

He recalled Mr Evans having "an infectious energy and a cheeky smile" that "quickly cemented him as a well-respected and much loved member" of his team.

"Oli's passion for 'the job' was tangible, always willing and highly capable."

Cumbria Police are appealing for any witnesses to the incident, or the vehicles prior to the incident to come forward.

Anyone with information is urged to contact officers on 101, with the information for the attention of PC 1947 Pete Ross or Sergeant 1962 Stephen Vickers.