First person-to-person coronavirus transmission confirmed in UK
29 February 2020, 11:50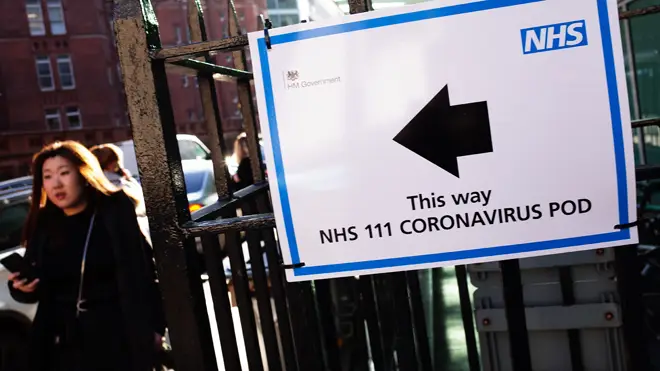 Coronavirus has been passed from person to person in the UK for the first time, with 20 people now confirmed to have the disease.
The patient has not been named, but reports have suggested he was a patient at the Haselmere Health Centre in Surrey, which has since been closed for "deep cleaning".
Wales recorded its first confirmed case of coronavirus this morning, and Northern Ireland confirmed its first case yesterday.
Professor Chris Whitty, Chief Medical Officer for England, said: "One further patient in England has tested positive for Covid-19.
"The virus was passed on in the UK.
"It is not yet clear whether they contracted it directly or indirectly from an individual who had recently returned from abroad.
"This is being investigated and contact tracing has begun. The patient has been transferred to a specialist NHS infection centre at Guy's and St Thomas'.
"The total number of cases in England is now 18. Following confirmed cases in Northern Ireland and Wales, the total number of UK cases is 20."
Welsh Chief Medical Officer Dr Frank Atherton this morning confirmed that a patient in Wales tested positive for the COVID-19 disease.
Shortly afterwards, the Department of Health confirmed two further cases of coronavirus in England.
Both English patients contracted the virus in Iran, chief medical officer Professor Chris Whitty said.
Read more: Coronavirus safety - symptoms, hygiene tips, travel advice, your rights if you self-isolate
Dr Atherton said: "I can confirm that one patient in Wales has tested positive for coronavirus (COVID-19).
"All appropriate measures to provide care for the individual and to reduce the risk of transmission to others are being taken.
"I can also confirm that the patient had travelled back to Wales from Northern Italy, where the virus was contracted.
"I'd like to take this opportunity to assure the public that Wales and the whole of the UK is well prepared for these types of incidents. Working with our partners in Wales and the UK, we have implemented our planned response, with robust infection control measures in place to protect the health of the public."
The latest cases bring the total number of confirmed UK cases to 19. No one in the UK has died from the disease so far.
A GP surgery in Ellesmere Port, south of Liverpool was also shut today over a suspected coronavirus case.
Great Sutton Medical Centre in Old Chester Road, Great Sutton which was supposed to be open from 8am to 6.30pm today said in a statement: "The surgery is closed until further notice as a precautionary measure following a suspected case of coronavirus."
In a further development today, the Swiss government banned all public gatherings of more than 1,000 people.
England's chief medical officer has warned it is "just a matter of time" until coronavirus spreads in the UK, as the number of confirmed cases in the country jumped.
Three people tested positive for Covid-19 in the UK on Thursday, including the first confirmed case in Northern Ireland.
Experts have warned of school closures and cancelled sporting events as the disease spreads across the globe.
Professor Chris Whitty, chief medical officer, said on Thursday that there could be a "social cost" if the virus intensifies, including school closures for more than two months.
He told the Nuffield Trust summit: "One of the things that's really clear with this virus, much more so than flu, is that anything we do we're going to have to do for quite a long period of time, probably more than two months."
The Northern Ireland patient had recently returned from northern Italy, while a parent at a primary school in Derbyshire contracted the virus in Tenerife, where 168 Britons are being kept in a hotel on the south west of the island.
Burbage Primary School in Buxton remains closed after the adult was diagnosed with the illness and Buxton Medical Practice, a two-minute drive from the school, also urged patients not to attend for appointments on Thursday due to the confirmed case.
The third patient also contracted the virus in Italy, which has become the worst affected country in Europe with at least 650 cases and 15 deaths.Two Britons were among eight people being monitored on board a cruise ship that was turned back by the Dominican Republic.
A joint statement by the Public Health Ministry and port authority on the island said the captain of the Braemar, which is carrying around 1,500 people, reported that four Filipinos, two British citizens and two US citizens were under medical observation for symptoms such as fever, coughing, or breathing difficulty.
In China, where the virus originated, 78,497 cases have been reported, including 2,744 deaths.
World Health Organisation director-general Dr Tedros Ghebreyesus told a press conference in Geneva on Thursday that coronavirus has the potential to become a global pandemic but this stage has not yet been reached.