First person prosecuted under new 'upskirting' law
20 September 2019, 15:37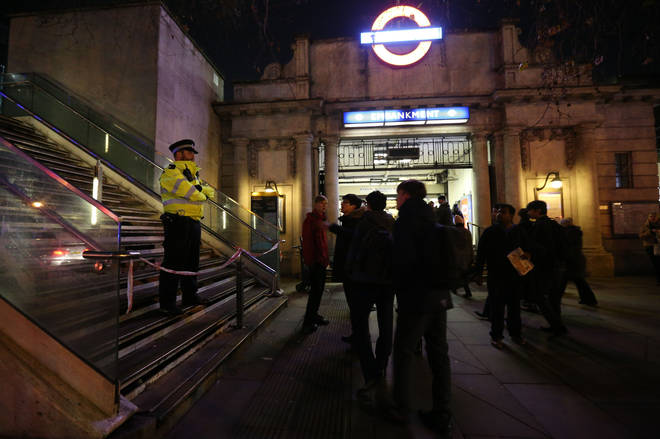 A man has admitted 'upskirting' in what is believed to be the first successful prosecution of its kind in the UK.
Daren Timpson-Hunt, 54, is facing jail after he admitted 'operating equipment beneath the clothing of another without consent' when he appeared at Westminster Magistrates' Court on Thursday.
British Transport Police said Timpson-Hunt, from Stanford Le Hope, Essex, was the first person to be charged with the upskirting offence on the rail network under laws introduced in April.
The charge states he used a mobile phone "for the purpose of obtaining sexual gratification" at central London's Embankment station on July 1.
The 54-year-old was seen to "slowly adjust it at camera height" to get an image of his victim, who was on her way to a job interview, the court heard.
Timson-Hunt, once a senior HMRC lawyer, followed the woman out of the Northern Line train at Embankment station.
A member of the public saw him film her again as she went up a set of stairs.
Aaron McCallister, prosecuting, told the court: "He was observed to go to the bottom of the stairs  and wait until she was at the top to take his phone out."
Nicholas Opston, defending, said Timson-Hunt had been sacked as a director of an Essex primary school as a result of the case.
Timson-Hunt was charged under the new Voyeurism (Offences) Act 2019.
The act brought in a new criminal offence of upskirting, when offenders had previously been prosecuted for outraging public decency.
It came after a high-profile campaign arguing the existing legislation was not fit to deal with the crime.
Detective Inspector David Udomhiaye, head of British Transport Police Sexual Offences Unit, said: "We're pleased that we have been able to charge someone for the very first time under the new legislation - this is a big step in us clamping down on this invasive and disgusting form of sexual offending.
"For some time we had been using other laws, such as outraging public decency, to prosecute offenders for upskirting offences.
"However, this older legislation was not fit for this newly emerged crime on the rail network, and these new powers now make it easier for my officers to charge a suspect.
"We hope this helps us in sending a very strong message that sexual offending, including upskirting, will never be tolerated on the rail network."
Siwan Hayward, director of compliance and policing at Transport for London, said: "Upskirting is a predatory crime and we are determined to rid the transport network of this vile offence.
"We will continue to work closely with the police using this new legislation to push for the strongest charges for offenders."
Timpson-Hunt will be sentenced at Westminster Magistrates' Court on September 26.