Eight sentenced for 'serious acts of violence' at pro-Tommy Robinson protest
27 September 2019, 16:10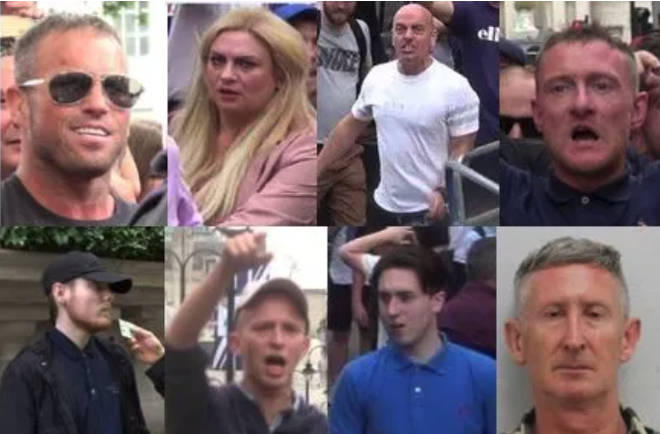 Seven people have been jailed and one person given a suspended sentence after taking part in "serious acts of violence" at a demonstration supporting Tommy Robinson.
Keith O'Sullivan, 40, was handed a 23-month sentence for throwing traffic cones and a metal barrier, while Danny Grealey, 43, was sentenced to 18 months in prison after admitting to throwing a traffic cone.
Robert Sandford, 47, has been jailed for 14 months for being part of a group that tried to "take over" a bus of tourists, before also throwing a traffic cone.
23-year-old David Anderson also received a 14 month sentence.
Meanwhile, 20-year-old Andrew McLean will spend 18 months at a young offenders institution and mother-of-two Kate Beveridge, 35, evaded jail time with a 15-month sentence - suspended for 18 months - as she is the sole carer of her children.
Kai Smith, 19, who was described as a straight-A student and aspiring lawyer was sentenced to 15 months, whilst 59-year-old Carl Gustav Backland received nine months for throwing two cans at a police officer at close range after trying and failing to make his way to a counter-protest.
Beveridge admitted to being "intoxicated" during the demonstration, when she threw a one-litre plastic bottle at a police officer.
Handing the primary school cook her sentence on Friday, judge Deborah Taylor told Beveridge to think about the example she had set.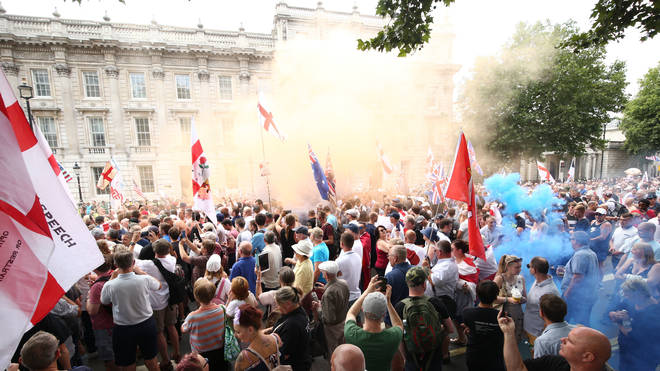 She said: "You should think what sort of example you are setting your own children and the children at the primary school by the actions you carried out that day."
Beverige, who is mother to a two-year-old son and 14-year-old daughter, was said to be tearful as she heard she had been spared jail.
Her lawyer Sheryl Nwosu said her client had acted on "a one-off" and felt "not only sorrow, but embarrassment and shame."
The defence lawyer for Backland said: "It was a mob mentality which took him over in a moment of madness.
"He is disgusted by his own behaviour and has supported those he went to protest against."
The rally, which took place in London in June 2018, was organised in solidarity with former English Defence League leader Tommy Robinson - whose real name is Stephen Yaxley-Lennon - after he was jailed for contempt of court.
Thousands of people took part in demanding for his release before things turned "ugly," prosecutor Aska Fujita said.
She added: "The police have been constantly abused, missiles were thrown at them, they have been punched, kicked and had barriers thrown at them."
According to Ms Fujita, the number of defendants on trial "does not reflect the actual occurrence of violence".
"Police have tried incredibly hard to identify the people involved.
"However, out of a crowd of hundreds of thousands, it is impossible to identify everyone."
Referring to Friday's defendants, she said they were all involved in "serious acts of violence, including weapons that could have caused serious injuries".
The eight sentences were the first of 14 for violent disorder at the protest, and will be during three hearings in court.
Detective Sergeant Matt Hearing, who led the Operation Augusta team, said: "Peaceful protest plays an important role in our society.
"However, the actions of some involved in this demonstration showed a contempt both for the law and the police. Officers that day were there to ensure the safety of all those taking part, yet were met with abuse and violence."