Fleet of planes on standby as Thomas Cook teeters on brink
22 September 2019, 23:06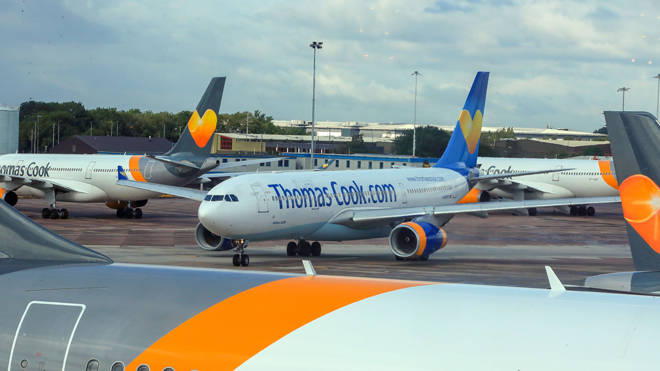 The future of Thomas Cook is hanging in the balance as the travel firm teeters on the brink of collapse.
Thomas Cook could be declared bankrupt as early as Monday morning, as it still needs to find £200 million to stay in business. Aircraft are being flown to destinations around the world to bring British holidaymakers home in the event the firm goes bust.
Sky News reported that the company was likely to become insolvent on Monday morning. If so, the Civil Aviation Authority would bring 'Operation Matterhorn' into action. It would be the biggest ever peacetime repatriation operation of Brits, with 150,000 people needing travel back to the UK.
The firm's financial troubles have worsened over the past year, culminating in a refinancing plan in August led by its biggest shareholder, Chinese company Fosun.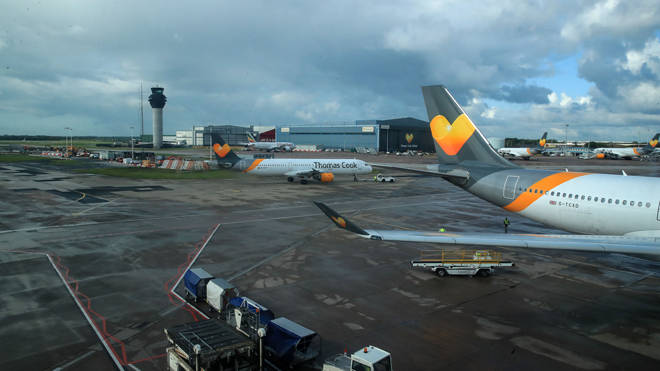 The government has said it is ready to fly holidaymakers home if Thomas Cook collapses. It has indicated a state bailout is unlikely.
According to the Sun, more than 40 jumbo jets have been called on to fly Brits home from destinations around the world if needed.
Crucial talks aimed at preventing the holiday giant going out of business were held throughout Sunday amid fears that tens of thousands of holidaymakers will be stranded.
Unions representing Thomas Cook staff have urged the Government to intervene.
Foreign Secretary Dominic Raab has assured the firm's worried customers that contingency planning is in place in the event the business cannot be saved.
Brian Strutton, general secretary of the British Airline Pilots Association, said: "Thomas Cook staff are going through hell as their livelihoods are put on the line; they have no idea if they will wake up tomorrow with a job or not.
"Their dignity in carrying on working for Thomas Cook customers under this pressure is a credit to them.
Mr Raab has insisted that Brits will not be left stranded abroad if the tour operator goes under.
However in Tunisia, guests were being Tunisia reported being locked in by security guards, as staff demanded extra money for fear the hotel will not be paid by the holiday company.
And a union leader said employees are working for the firm while not knowing if they have a job or will even get paid for this month.
Thomas Cook Group chief executive Dr Peter Fankhauser remained tight-lipped as he emerged from a day-long meeting on Sunday after negotiating with creditors in a final bid to save the firm.
He would not comment on whether a deal had been reached or if the firm would consider approaching the Government for a taxpayer-funded bailout.
He also refused to say anything to Thomas Cook's customers as he walked out of the service exit of City law firm Latham & Watkins, in Bishopsgate, central London, surrounded by colleagues.
The Financial Times quoted two anonymous sources - one close to the negotiations and another involved in the restructuring deal - who said the rescue efforts were unlikely to succeed.
The travel company is at risk of falling into administration unless it finds £200 million in extra funds, with the jobs of 22,000 staff worldwide at stake, including 9,000 in the UK.
It was feared the collapse would leave up to 150,000 UK holidaymakers stranded.
But Mr Raab said: "I can reassure people that in the worst case scenario, the contingency planning is there to avoid people being stranded."
Brian Strutton, general secretary of the British Airline Pilots' Association, said lessons had not been learned from the collapse of Monarch Airlines in 2017.
"Thomas Cook is at the last chance saloon today and decisions about staff and passengers are being taken in secret.
"It's a much bigger scale than Monarch. There is a real risk that if the worst comes to the worst, proper arrangements may not be in place for the repatriation programme and staff are still working while not knowing if they have a job or will even get paid for this month," he told the PA news agency.
He said the Government did not act on its own review which followed the Monarch collapse, adding: "This is a mess that could have been avoided. Ministers need to step forward and take responsibility for the sake of passengers and staff."
Thomas Cook reassured worried customers on Sunday that their flights continue to operate as normal and all their package holidays are Atol-protected.
But many, including wedding parties, were left in limbo, not knowing whether their holidays will still go ahead.
Lorna Clark, 33, and her fiance, Paul Ruckledge, who is in his 40s, are due to fly from Manchester to Paphos, Cyprus on September 30.
They are among a party of nine, from near Pontefract, in West Yorkshire, who bought Thomas Cook flights - which are not ATOL-protected - and fear they could face a scramble to get tickets from another airline if the company collapses.
Ms Clark's sister-in-law Sarah Cooper, 35, said: "She's pretty much close to a nervous breakdown to be fair. It's taken years of planning, booking a wedding herself.
"Everything is ready, and all of a sudden we find the flights might not be going ahead.
"She's just in an absolute panic. There's nothing we can do until we find out for definite if they've gone bust. It's just horrendous really."
Thomas Cook said it would not be sending any more tourists to the Les Orangers beach resort in the town of Hammamet, near Tunis, after complaints the hotel was refusing to let guests leave while demanding extra money.
Ryan Farmer, from Leicestershire, said the hotel had on Saturday afternoon summoned all guests who were due to leave to go to reception "to pay additional fees, obviously because of the situation with Thomas Cook".
With many tourists refusing to pay on the grounds they had already paid, security guards were keeping the hotel's gates shut, refusing to allow guests out, or let new visitors enter.
"We can't leave the hotel. I'd describe it as exactly the same as being held hostage," Mr Farmer said.
Thomas Cook told one customer on Twitter: "A small number of customers were asked to pay for their hotel room before leaving Les Orangers in Tunisia yesterday, we have refunded those customers who paid on their credit cards."
The Transport Salaried Staffs Association (TSSA), which represents workers at the company, said the Government should be ready to assist with "real financial support".
General secretary Manuel Cortes called for the Government to reveal how much it is prepared to spend repatriating thousands of Thomas Cook holidaymakers.
He said: "We hope a deal can still be done but Dominic Raab and other ministers must come clean and tell us exactly how much the Government is willing to spend bringing 150,000 British holidaymakers home.
"There is no escaping the fact that doing so will cost more than the £200 million needed by Thomas Cook to survive."
Shadow business secretary Rebecca Long-Bailey said: "The Government faces a simple choice between a £200 million Government cash injection to save the company now, versus a £600 million bill to repatriate UK holidaymakers."
It is understood that Thomas Cook has approached the Government in an attempt to plug a gap in its funding.
A Government spokesman said: "We recognise it's a worrying time for holidaymakers and employees.
"The financial circumstances of individual businesses are a commercial matter, but the Government and the Civil Aviation Authority are monitoring the situation closely."
Additional reporting by PA