Footballs fans club together to fund 'No To Racism' banner
27 September 2019, 10:29
A fan-funded anti-racism banner will be unveiled ahead of Everton's home fixture against Manchester City this weekend as part of a bid to tackle racism in football.
The banner is the culmination of a social media campaign led by fan group the County Road Bobblers to show solidarity with Moise Kean, a summer signing from Juventus who himself was a victim of racist abuse from the terraces during a fixture in Italy last season.
Fans from across the globe have given more than £3,000 - enough to fund the banner and donate more than £1,000 each to Kick it Out and the Blues' award-winning charity Everton in the Community.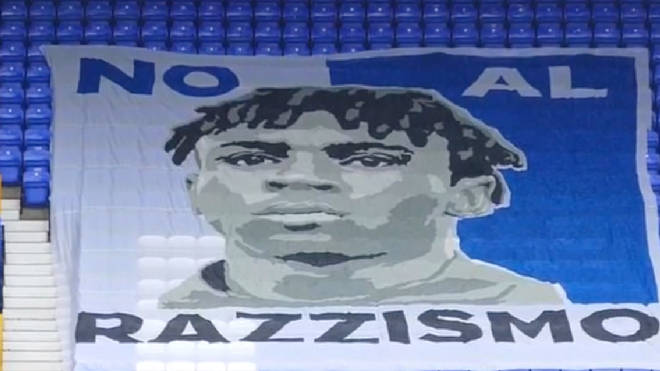 David Wycherley, from the Blues' fan group, the County Road Bobblers, told Global's Newsroom: "It says 'No To Racism' in massive bold Italian print and it's got a portrait there of Moise, so he definitely can't be under any illusion that we support him and we're backing him 100%.
"Moise had suffered racist abuse in Italy. He's a young lad and we wanted to say what Everton's all about, what the city of Liverpool is all about.
"We all need to do better. We all need to educate each other. We've all got responsibility and this kind of statement shows there's a real desire out there to get behind these things.
"Wherever you come from, whatever race or creed, whatever city, we are scousers and we're proud to be diverse and we want to support you, and I think we all need to buy into that no matter what club you support across the country.
"I know when Moise Kean didn't get the support he should have in Italy last season, Raheem backed Moise Kean publically and spoke about the issue himself. These are young lads and they're doing so much to change the views of the general public."
The Everton striker, said: "The banner is beautiful because racism is horrendous and we have to fight against the racists. I'm going to repay my fans for all they do for me. I'm feeling even more motivated to repay them by training at 100 per cent and giving the maximum I can."
The banner will be unveiled ahead of the fixture (5.30pm kick-off) in the Howard Kendall Lower Gwladys Street end of Goodison Park.