Germany marks 30 years since fall of Berlin Wall
9 November 2019, 18:54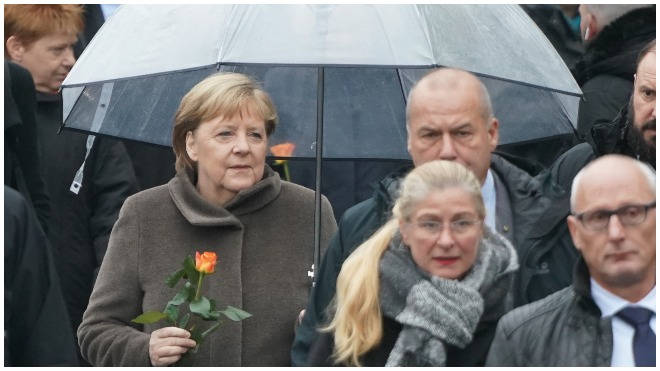 People across Germany have been marking the 30th anniversary since the fall of the Berlin Wall in 1989.
Politicians, journalists and the public from across Eastern Europe have been attending commemorative events in Berlin to mark the historic day.
200 events are taking place across Berlin at seven difference location, including a looped screening of protests in Alexanderplatz just days before the Berlin Wall fell on 9 November 1989.
German Chancellor Angela Merkel led the main ceremony at a memorial service inside a small chapel, near where the Wall once stood.
Ms Merkel said: "The Berlin Wall, ladies and gentlemen, is history. It teaches us: No wall that keeps people out and restricts freedom is so high or so wide that it can't be broken down."
The historic moment was also important for the United States, whose State Department are commemorating the moment as a "victory of democracy over Communism".
Spectators gathered at the Brandenburg Gate on Saturday evening for a conclusion to the festival named '30 Years Peaceful Revolution - Fall of the Wall'.
Many see the fall of the Berlin Wall as the beginning of German reunification, which took place a year later in October 1990, and an end to Soviet dominance in parts of Eastern Europe.
The Wall symbolised rising tensions between the East and the West during the Cold War, which concluded with the end of the Soviet Union and founding of the Russian Fedaration - major reforms pushed through by then General Secretary Mikhail Gorbachev.
The demolition of the Wall officially began in June 1990 and was completed in November 1991 - over a year since Germany had officially reuinified.