Glastonbury 2020 tickets sell out in just 34 minutes
6 October 2019, 10:40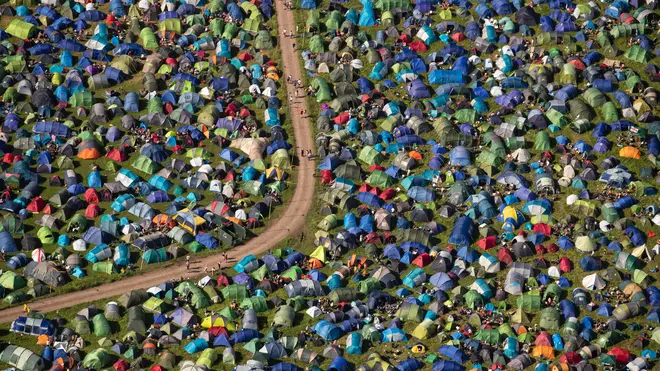 Tickets for Glastonbury 2020 have sold out in just under 35 minutes, a near record time for the festival.
All 135,000 tickets were sold in just 34 minutes, taking slightly longer than the record of 26 minutes for the 2015 festival.
Tickets went on sale at 9am on Sunday and the website began to slow as a record 2.4 million people tried to get access to the festival.
Coach and ticket packages all sold out earlier this week in a near-record 27 minutes.
The event is celebrating it's 50th anniversary which runs from 24 to 28 June at Worthy Farm in Somerset.
Finally after 5 years trying with the same people.... WE ARE GOING TO GLASTONBURY!!

— Adam Smith (@Adam1994Smith) October 6, 2019
Thousands have taken to social media to either celebrate buying a ticket or complain about missing out.
The event's organiser's posted on their website: "The event organiser's all tickets for next year's event have now been sold.
"We are truly humbled by the incredible number of people from around the world who hoped to come to next year's 50th Anniversary Festival, with demand significantly outstripping supply.
"We're sorry to all of those who missed out – as always, we wish we could squeeze everybody in who would like to come.
"Thank you for your amazing support."
Tickets for Glastonbury 2020 have now Sold Out. Thank you to everyone who bought one, and sorry to those who missed out. There will be a ticket resale in April - plus we'll be announcing details of a special ballot for the sale of 50 pairs of tickets in the coming days.

— Glastonbury Festival (@GlastoFest) October 6, 2019
The festival organisers have confirmed there will be a resale of any returned coach and ticket packages on Thursday 16th April 2020, followed by a general admission resale on 19 April next year.
Registration will open once again for the resale on 1 November.
To mark the Festival's 50th Anniversary, they have held back 50 pairs of tickets which will be sold through an online ballot to those who have missed out so far.