Greenpeace protesters scale Leicester Square Burger King
23 September 2019, 16:55
Environmental activists hung giant Greenpeace banners at Leicester Square's iconic Burger King restaurant in protest at the Amazon forest fires and deforestation.
Protesters climbed several storeys to unfurl large banners reading "Fast Food Fries Forests" and "Burger King Flame Grilling the Amazon".
Greenpeace claims the fast food company is sourcing meat and animal feed from companies linked to the Amazon's destruction.
However, Burger King UK denied the accusation saying all its beef was sourced from UK and Irish farmers and it had a policy on responsible soy sourcing.
The fast food chain needs to "step up its game" in protecting natural resources due to the rainforest's devastation recently witnessed in Brazil and other South American countries, say Greenpeace.
Speaking to Global's Newsroom, Chiara Vitali a Greenpeace environmental campaigner, said: "Companies like Burger King ... are facilitating unsustainable deforestation-based development by sourcing huge amounts of meat and animal feed from the area and essentially giving their complicit assent to this.
"At the moment we are calling on the whole fast food sector, particularly the really big brands like Burger King, McDonalds and KFC.
"They have a huge responsibility for what's going on in the area because of their buying of goods such as meat and soya for animal feed."
The group want Burger King to "listen" and "take responsibility" by halting its alleged sourcing of meat and animal feed from Brazil "until the Amazon and its people are protected."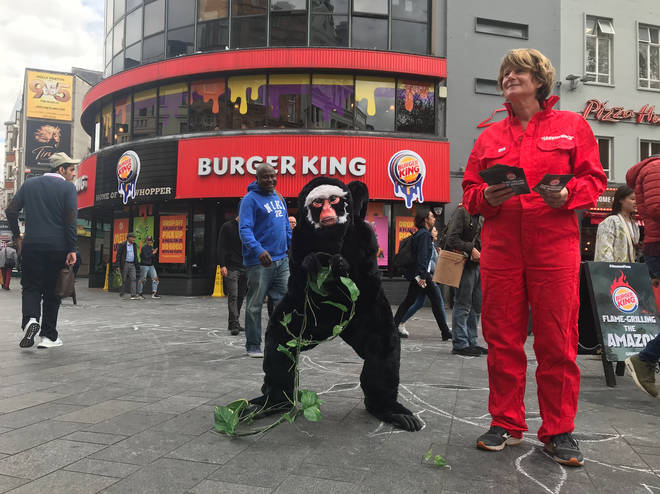 Asked about whether or not the demonstration would have the desired impact, Ms Vitali said that protests are a successful way of bringing multinational companies "to the table".
She said: "We're confident it's at least going to bring Burger King into a conversation and I hope they're going to respond to it the responsible way and do their part in protecting the Amazon."
Environmentalists warn that demand from companies like Burger King for land to ranch cattle and grow soy, most of which is fed to animals, is leading to the burning of forests in Brazil.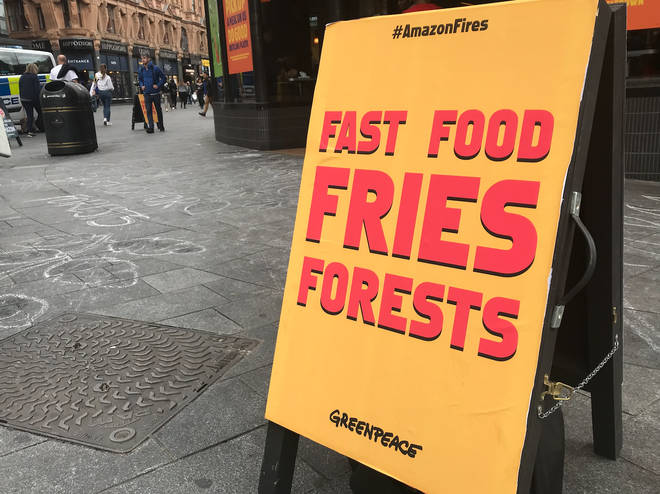 However, Burger King said in a statement that it only sourced "100 per cent British and Irish beef".
The statement continued: "Burger King UK has a clear sustainable soy policy setting out the legal, environmental and social requirements of sustainably sourced soy.
"We work in partnership with our suppliers to ensure that our ingredients and raw materials are sourced in a sustainable way, with minimal impact to the environment."
Greenpeace head of forests Richard George said: "The Amazon is still burning, yet Burger King keeps buying meat and animal feed from the companies responsible for the crisis.
"Their burgers are flame-grilling the Amazon."