Hero Pc Stuart Outten who survived brutal machete attack: 'Taser saved my life'
27 January 2020, 10:04
A police officer who survived a "brutal and shocking" machete attack has told LBC's Nick Ferrari that he would not be alive today had it not been for his Taser.
Pc Stuart Outten was attacked in Leyton, east London, when he stopped convicted rapist Muhammad Rodwan, 56, on suspicion that his white van was uninsured.
In an exclusive interview, PC Outten this morning relived in detail the horrific attack in which he was hacked at six times with a machete.
Rodwan claimed he was acting in "self-defence" when he grabbed a freshly-sharpened 2ft-long blade and chopped at PC Outten's head in a rage. Mrs Justice Carr, who presided over the Old Bailey court case described the attack as "brutal and shocking".
The 29-year-old officer - dubbed Britain's "hardest cop" - was bleeding heavily from six deep gashes to the head and one to his arm, but managed to Taser Rodwan twice and brought him to the ground.
Speaking to Nick Ferrari on LBC, PC Outten claimed he wouldn't have survived without the Taser.
He said: "I only realised four or five hits in that he had a machete. I was there fighting and I was thinking, 'why is my hair so wet'?
"I realised it wasn't raining, I was focused on what he's got and realised 'well, that's a machete and so that must be blood'.
"There was a point where I was on all fours and blood was coming out of my head like a tap. I thought to myself, 'I'm in a bit of trouble here'.
"Without that Taser, I'd be dead. I wouldn't be here talking to you right now."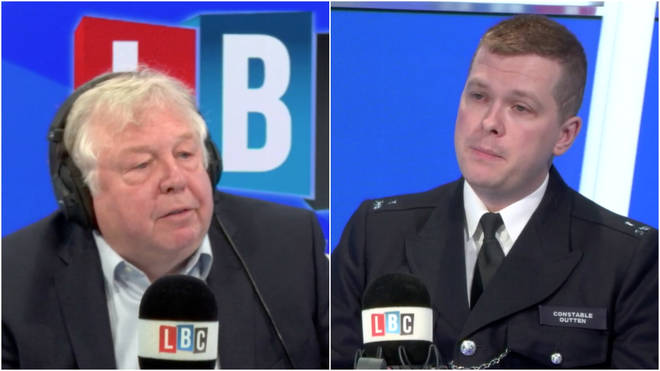 Detective Chief Superintendent Richard Tucker also appeared on Mr Ferrari's show today and said: "I was aware of your campaign. There is additional funding, there is additional training so we're getting more officers with Tasers - for those who want to carry it.
"But not everyone is going to be issued with a Taser. There are some nuances to it, some roles aren't appropriate to carrying a Taser.
"We want to be approachable, but we have a duty of care to our officers. How graphic it was, this was still a rare event. It's not as easy as to say, 'everyone should carry a Taser'."
When reflecting on the event, PC Outten said the thing that stood out to him was the "randomness of it all, just how one stop can turn into a fight for life". He also thanked the members of the public who gave basic first aid before his colleagues could attend.
He said he will be back at work "this week" after recovering and receiving counselling and other support from the Metropolitan Police.
Last week, convicted rapist Rodwan was jailed for 16 years after being found guilty of wounding with intent for his attack on Pc Outten. He was cleared of attempted murder and a weapons charge.