EU chief says 'we can have a Brexit deal' but warns no-deal would be 'catastrophic'
19 September 2019, 23:45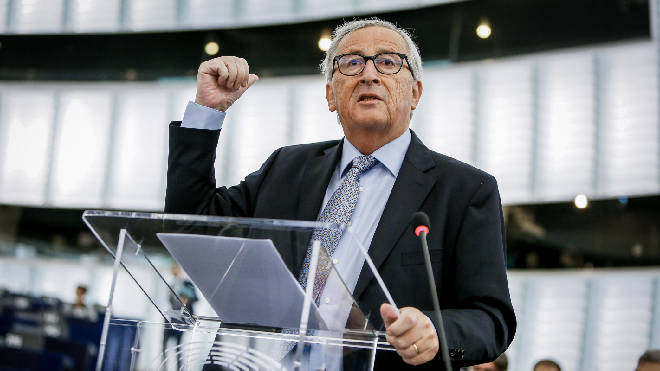 The European Commission president said, "we can have a deal" on Brexit before the Halloween deadline but also warned a no-deal Brexit would be "catastrophic" for both sides.
But, Jean-Claude Juncker could not give better than 50/50 odds on the prospect of a deal when he spoke to Sky News.
On Monday Boris Johnson met with Mr Juncker in Luxembourg for Brexit discussions, before the Prime Minister headed for his much-publicised meeting with the Luxembourg Premier Xavier Bettel.
The EU chief insisted his meeting with the PM was "rather positive", adding: "We can have a deal."
But when pressed by the broadcaster if the chances were more than 50/50, he replied: "I don't know."
He assured that he is "doing everything to have a deal" because he wanted to ward off a no-deal with "catastrophic consequences".
"It's better for Britain and for the European Union to have an organised deal," he added.
The Brexit Secretary Stephen Barclay will head to Brussels for talks with Michel Barnier on Friday. Mr Barclay warned the EU against a "rigid" approach and suggested the final details of an alternative to the Irish backstop may not need to be resolved until the end of 2020.
He said the Prime Minister had shown he was willing to be "creative and flexible" by considering an all-Ireland approach to plant and animal checks and suggested that it was now for the European Commission to shift its stance.
Downing Street says it's sent documents to the EU on how to rework the Brexit deal.
On Thursday Finland's Prime Minister said solid proposals had to come by the end of this month or "it's over." Antti Rinne was speaking following talks in Paris with French President Emmanuel Macron.
The Prime Minister insists there's been some movement in talks - but doesn't want to "exaggerate progress."
More on Brexit: Parliament could stay suspended even if Boris Johnson loses at the Supreme Court, according to government documents.