Hundreds of thousands gather in London for People's Vote march
19 October 2019, 16:34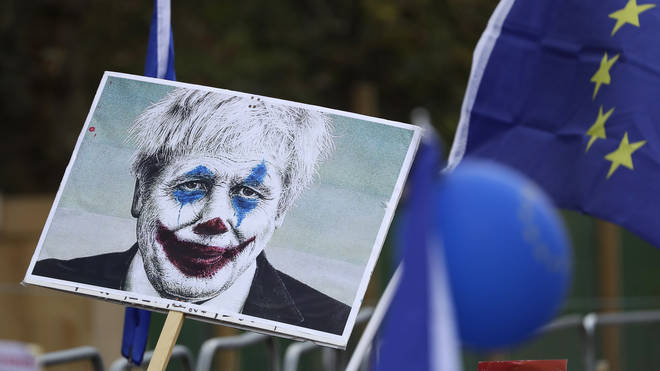 Supporters of the "People's Vote" campaign are marching through the capital demanding a "final say" on Boris Johnson's Brexit deal.
Hundreds of thousands of people have come together in London saying they wish to check whether the UK electorate wants to leave the EU under the prime minister's plans.
It comes as MPs in the House of Commons voted in favour of the Letwin Amendment which will force No 10 to request a further extension to the Brexit deadline.
Protesters gathered outside Parliament whilst MPs debated Sir Oliver Letwin's proposed modification, which passed with a majority of 16.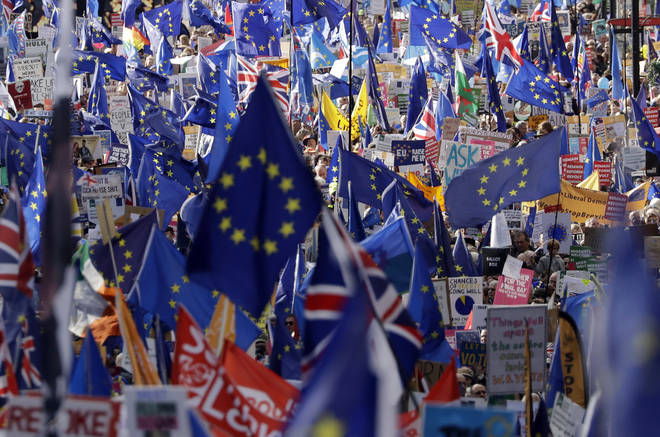 Many of them cheered as they learned the government had lost the key Commons vote on Mr Johnson's Withdrawal Agreement.
The march began at midday on Park Lane with people walking in their thousands towards Parliament Square.
Metropolitan Police confirmed the last of the protesters cleared Park Lane at around 3:10pm with the crowd being "quite dense" in several places.
The force refused to give an estimate of the total number of people taking part, however they said it was "very busy throughout the procession route" with those at the back of the march unlikely to reach the final destination.
We don't provide estimates of numbers as it's such an inexact science. However it is fair to say it is now very busy throughout the procession route. Marchers still at Park Lane are now near certain to be unable to reach Parliament Square pic.twitter.com/bON465XJVA

— MPS Events (@MetPoliceEvents) October 19, 2019
Celebrities, politicians and well-known activists joined the crowds on Saturday afternoon demanding the government to "honour democratic values."
Star Trek actor Sir Patrick Stewart praised the protest for keeping the fight for a second EU referendum alive and said a People's Vote was no longer a pipe dream.
He told the crowd: "You haven't just filled a nice bar in north London, you have taken over an entire city. You haven't just impacted the Brexit debate, you have transformed British politics."
Sir Patrick said there was "nothing democratic" about the original 2016 referendum and "people weren't just misled, they were lied to."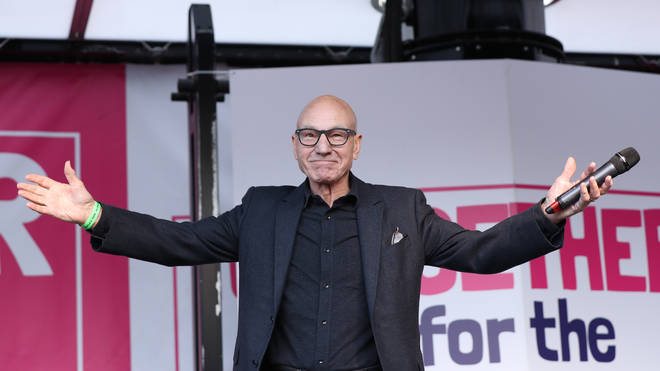 Anti-Brexit campaigner Steven Bray, who has protested outside Parliament with a loud speaker every day that it has been sitting for the past 25 months, was there again on Saturday.
"We scraped the bottom of the barrel with this Prime Minister," he said.
Floats, effigies and flags have lined the streets of London with pets and even pro-Catalonian protesters joining the march.
London Mayor Sadiq Khan was pictured alongside Sir Patrick and former Emmerdale actor Stephen McGann.
He thanked attendees for their participation and told them EU citizens are part of what makes London a great city.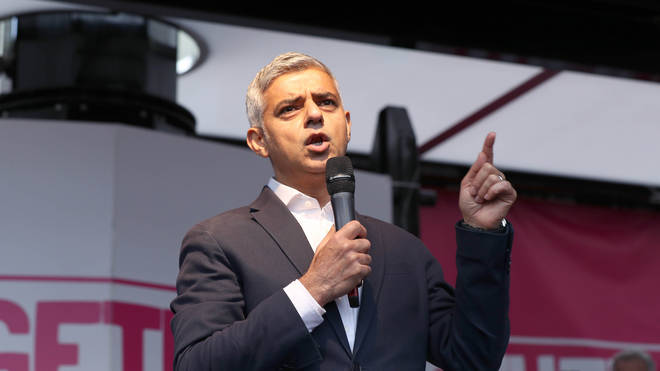 "They are our friends, members of our family, they are our colleagues. Over the last three years they have been feeling anxious, worried and heartbroken.
"I want you to look around. This is what democracy looks like."
Fellow Labour politicians Sir Keir Starmer, Emily Thornberry and Diane Abbott came out to cheers from the crowds.
Sir Keir said: "What we have done is historic because we defeated Johnson again. We are not going to let him to rip us out with this sellout deal and we have just won by 16 votes."
Ms Thornberry said she was told there are over a million protesters.
"You are on the streets, it doesn't matter which parties you support and what your political backgrounds are," she added.
Television chef Rick Stein tweeted an image of himself in the capital, saying "We are European" whilst famous food critic Jay Rayner shared an image with the caption: "We march because we have to."
"Demonic Cummings" with his hand up a Boris Johnson puppet has been parked up in Trafalgar Square.

Meanwhile the streams of protesters just keep coming - all heading down towards Parliament Square. @LBC pic.twitter.com/tYH7ILaC27

— Rachael Venables (@rachaelvenables) October 19, 2019
One float that was spotted near Downing Street depicted Dominic Cummings as "Demonic Cummings" using the prime minister as a puppet whilst wearing what looks like a Nazi uniform.
After the Letwin Amendment was approved and the rain started pouring down people began to disperse.