James Cleverly 'accusations thrown at PM are unfair'
26 September 2019, 09:43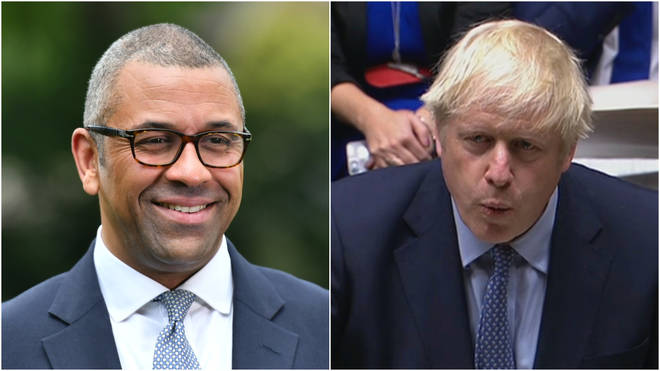 Conservative Party chairman James Cleverly has defended Boris Johnson's comments to MPs in the Commons.
He denied that the Prime Minister labelled Opposition MPs "traitors," during a Parliamentary debate
"The accusations thrown at him yesterday were deeply unfair," he said.
"He was accused of calling people traitors - he has never done that."
On Wednesday the Prime Minister addressed the Commons and said: "Of course there will be an attempt to try to obfuscate the effect of this Act, but it does - the Capitulation Act, or the Surrender Act or whatever you want to call it - it does, I'm sorry, but it greatly enfeebles, it greatly enfeebles this Government's ability to negotiate.
"But what I will say is that the best way to honour the memory of Jo Cox and indeed the best to bring this country together would be, I think, to get Brexit done."
Labour MP Tracy Brabin, who inherited her Batley and Spen seat from murdered MP Jo Cox, told him: "All these words are suggesting that because we disagree with him, we are traitors, we are not patriots. Nothing could be further from the truth.
"This may be a strategy to set the people against the establishment. I would like to gently suggest he is the establishment and we are still people… Please, please will he going forward moderate his language so we will all feel secure when we are going about our jobs."
Boris Johnson's comments about Jo Cox and far right threats to MPs in Parliament tonight show once again why he is unfit to be Prime Minister.

— Jeremy Corbyn (@jeremycorbyn) September 25, 2019
Mr Cleverly admitted that Mr Johnson had used the word "betray" in Parliament on Wednesday.
The Tory Party Chair said the "deeply uncomfortable" atmosphere in politics was unlikely to be resolved until Brexit was "done".
He suggested Opposition parties preferred to "continue the circular argument around Brexit" rather than resolve it.
Commons Speaker John Bercow said the culture in the Commons on Wednesday was "toxic", adding it was "worse than any I have known in my 22 years in the House".
Making a statement at the start of business, Mr Bercow said: "I think there's a widespread sense across the House and beyond that yesterday the House did itself no credit.
"There was an atmosphere in the chamber worse than any I've known in my 22 years in the House.
"On both sides passions were inflamed, angry words uttered, the culture was toxic."
Shameful from @BorisJohnson to continue calling the Benn Bill the Surrender Bill whipping up local tensions increasing threats and intimidation to MPs across the house. He just doesn't care because it's all about him.

— Tracy Brabin MP 🕷 (@TracyBrabin) September 25, 2019
In May the head of the Met Police appeared before the Commons Joint Committee on Human Rights and said threats to MPs were at "unprecedented" levels with a "considerable rise," in the last year.
Commissioner Cressida Dick said the murder of Labour MP Jo Cox had contributed to an "extraordinary set of circumstances" with increasing levels of abuse not seen before.
In the whole of 2018, there were 342 offences reported to police in England and Wales by MPs, and the previous year 151.
The first four months of 2019 saw the number of MP receiving threats and abuse reached a staggering 152. This was a rise of 90% compared to the same months last year.