Jean-Claude Juncker does not "exclude a deal" on Brexit
9 October 2019, 18:31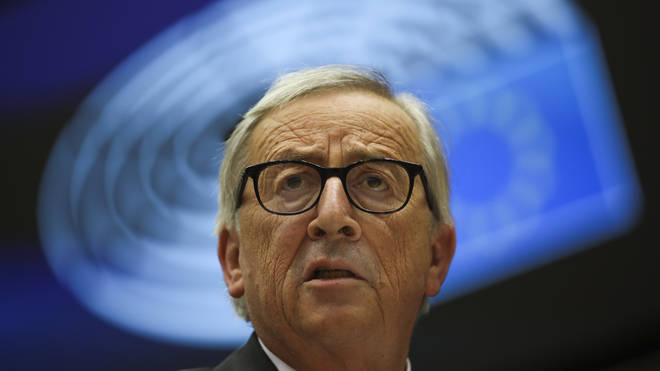 Michel Barnier has said he thinks striking a Brexit deal by next week's deadline is "very difficult but possible."
The EU's Chief Negotiator Michel Barnier has spoken ahead of crucial meetings this week.
He's due to talks with Brexit Secretary Stephen Barclay. The two are expected to discuss the state of play in the Brexit negotiations following a week of technical talks between officials.
Boris Johnson will speak to Ireland's premier Leo Varadkar on Thursday lunchtime.
European Commission president, Jean-Claude Juncker however, remains reasonably positive - saying discussions with the UK will continue.
Mr Juncker said he does not "exclude a deal," and he is working with Mr Barnier to secure an agreement on the UK's exit from the EU.
He said they were not willing to accept the "blame game" which, he said, "started in London."
Addressing the European Parliament, the EU's chief Brexit negotiator Michel Barnier said: "To put things very frankly, though, and to try and be objective, this particular point, we are not really in a position where we are able to find an agreement."
He added: "The thing is, though, time is pressing. We are one week away from the European Council summit."
He said the British proposals for alternatives to the backstop have lead to "serious concerns".
On Twitter, Mr Barnier said there needed to be "real, credible solutions for the island of Ireland." Adding: "Finding an agreement is difficult, but still possible."
Irish premier Leo Varadkar has said the position of the British Government on Brexit is causing "great difficulty" in reaching a deal.
Mr Varadkar was addressing questions about the series of anonymous briefings from within Downing Street.
Speaking in the Irish parliament, the Taoiseach said: "Part of the difficulty at the moment though is the position of the UK Government is that Northern Ireland must leave the EU Customs Union and must be part of the UK Customs Union no matter what the people of Northern Ireland think.
"That's their position at the moment and that's one that is a great difficulty for us because the position of the British Government is that the UK must leave the European Union and Northern Ireland must come out of the customs union, whether they like it or not.
"That creates huge difficulties for us because we want there to be a deal that respects the wishes of the people of Northern Ireland, and indeed the people in this Republic too."