Julian Assange: Hundreds protest extradition of Wikileaks founder in London
22 February 2020, 14:27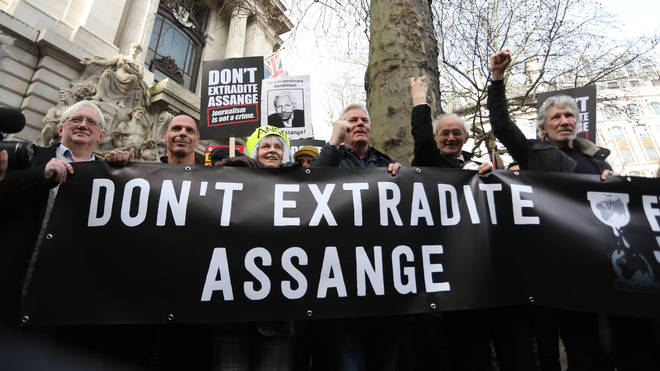 Hundreds of people have gathered outside Australia House in London to protest the extradition of Julian Assange.
The supporters are demanding that he be released and are holding signs such as, "Don't extradite Assange - journalism is not a crime".
Some high-profile celebrities are also in attendance such as former Greek Finance minister Yanis Varoufakis, fashion designer Vivienne Westwood, editor in chief of WikiLeaks Kristinn Hrafnsonn and Pink Floyd bassist Roger Waters.
One protester, Sinthia Surace, 22, whose family fled the Sri Lanka civil war, said: "It took a lot of brave people to expose all the crimes impacting my community directly. That's why I care about voices like Julian.
"I don't believe we should be punishing him for the wrongdoings of the US government. He always says privacy for the citizen but transparency for the government, especially when it comes to human lives."
Ms Surace said she believes "all the protesting and banging on HMP Belmarsh's doors" will make a difference for Assange.
Crowds of Assange's supporters have chanted "Boris Johnson shame on you," outside Downing Street. Media students have also joined the protest.
Assange's father John Shipton has joined the protest and gave a speech to crowds in Parliament Square.
He said: "I look over the crowd and see many familiar faces in the crowd and the press supporting Julian and I thank you.
"I bring to you his affection, his nobility of purpose and his strength of character after nine years. I don't really understand why Julian is in jail here."
He described the imprisonment of the Wikileaks founder as "arbitrary detention."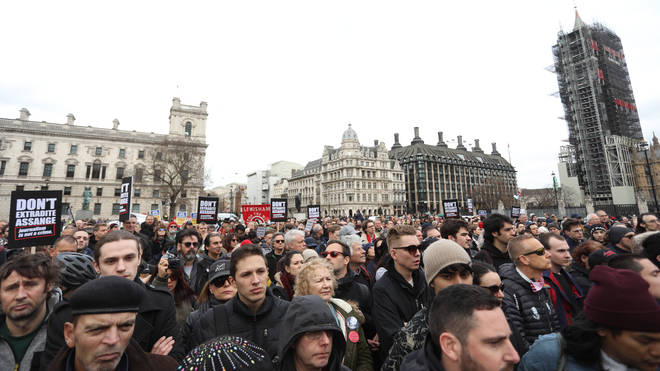 Assange, 48, is awaiting a full extradition hearing on Monday.
He is wanted in the US on 18 charges related to the publication of US government leaks.
If found guilty, he could face a 175-year prison sentence.
He has also been held on remand in Belmarsh since last September. It came after serving a 50-week jail sentence for breaching bail conditions while staying in the Ecuadorian embassy in London.
Assange took refuge in the embassy in 2012 to avoid extradition to Sweden over sex offence allegations.
He has always denied the charges and the investigation has since been dropped.