Juncker warns MEPs of 'palpable' risk of No Deal Brexit
18 September 2019, 09:40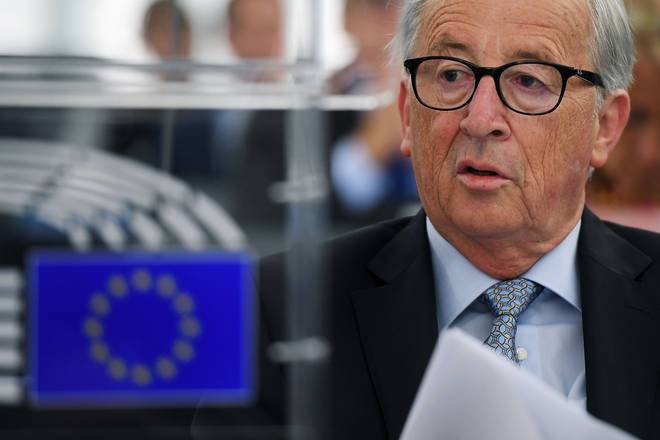 European Commission President Jean-Claude Juncker told MEPs today that there is a 'palpable' risk of a No Deal Brexit.
Mr Juncker told the chamber in Strasbourg "the risk of a no-deal remains real as he opened a debate at the European Parliament.
Mr Juncker said: "This house is open and in action, and not prorogued," in a reference to Boris Johnson shutting down the UK Parliament for five weeks. Mr Juncker also said that No Deal Brexit would "never be the preferred option of the EU" but he accepted Mr Johnson's word that he plans to delver Brexit on 31 October.
He told MEPs: "You will hardly be surprised to learn that the Prime Minister assured us that he wanted an agreement.
"But he said the UK will leave on October 31 with or without a deal."
Mr Juncker said that his talks with Mr Johnson had been "friendly," constructive and in part positive."
"The Commission is prepared to work day in day out, morning until night – with a few breaks – to try to find the technical and political solutions we need but I am not sure that we will get there," he said.
"There is very little time remaining but what I do know is that we have to keep trying."
He continued: "I said to Prime Minister Johnson that I have no emotional attachment to the safety net, to the backstop, but I stated that I stand by the objectives that it is designed to achieve," he said.
"That is why I called on the Prime Minister to come forward with operational proposals, in writing, for practical steps which would allow us to achieve those objectives.
"Until such time as those proposals have been presented I will not be able to tell you, looking you straight in the eye, that any real progress has been achieved."
Michel Barnier said that they still needed to hear more from the UK side about its proposals for replacing the Northern Ireland backstop. "We understand the remarks of the UK Prime Minister on the democratic or non-democratic nature of the backstop," he told MEPs.
"But it is up to the UK Government to ensure the support of the Northern Ireland institutions to the Withdrawal Agreement because it would be signed on behalf of all of the UK."
He added: "I would recommend nobody underestimates the consequences of no-deal for UK first and foremost, but for us as well.
After the debate opened, Brexit Party leader Nigel Farage criticised the "pipsqueak" prime minister of Luxembourg Xavier Bettel, who 'empty-chaired' Mr Johnson by going ahead with a news conference which Mr Johnson had cancelled.
They spoke as Boris Johnson faces the Supreme Court today where he will defend his decision to suspend Parliament.
Lawyers representing the Prime Minister will argue that his advice to the Queen to prorogue Parliament was lawful and that, in any event, the court cannot interfere in political matters.
Yesterday Lord Keen QC, the justice minister who is representing Mr Johnson at the Supreme Court, refused to rule out a second prorogation of Parliament if the court decides the first was unlawful.