LBC WORLD EXCLUSIVE: Donald Trump says Jeremy Corbyn would be 'so bad for the country'
31 October 2019, 18:02
US president Donald Trump has delivered a damning verdict on what the UK would be like under a Jeremy Corbyn government in a world exclusive interview with LBC, saying the Labour leader would be "so bad for the country."
Speaking exclusively in a frank 30-minute interview with Nigel Farage, the President spoke openly about:
- Boris Johnson, Jeremy Corbyn and Brexit
- The NHS
- Future trade deals with the UK
- ISIS
- The case of teenager Harry Dunn
- ...and his love for the British royal family
In his interview with Mr Farage the President said: "I have great relationships with many of the leaders, including Boris.
"He is a fantastic man and I think he is the exact right guy for the times and I know that you and him will end up doing something that could be terrific.
"If you and he get together, you know, unstoppable force and Corbyn would be so bad for your country.
"He would be so bad. He would take you in such a bad way. He would take you into such bad places."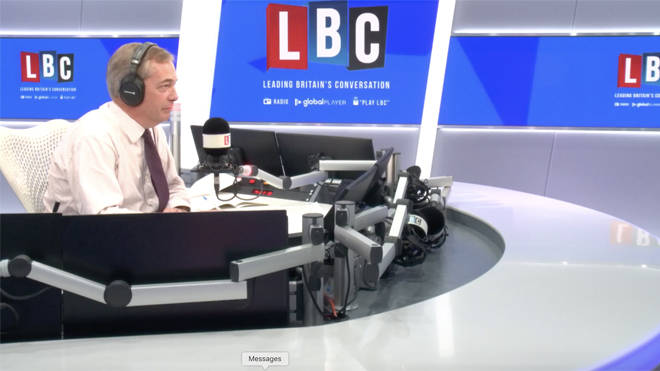 He also demolished Jeremy Corbyn's claim that the US wants to meddle with the NHS.
Mr Corbyn today pledged to "defend the NHS" in his first major speech ahead of the December 12 general election.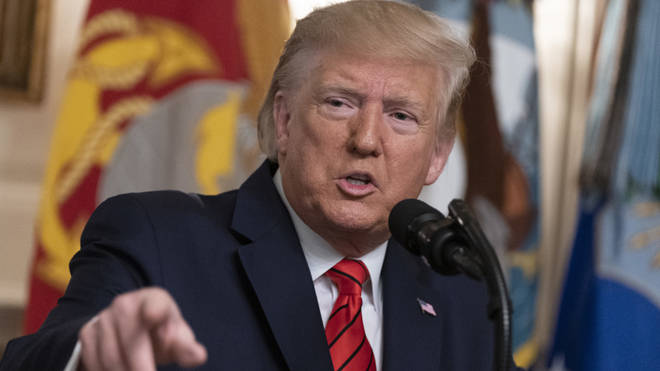 But Donald Trump said: "I don't even know where that started. I don't even know where your healthcare system started with respect to us taking over your healthcare system. It's so ridiculous. I think Corbyn put that out there. It was never even mentioned. I never even heard it until I went to visit with the Queen."
He was firm in stating he had no plans at all to take over the NHS saying: "We are trying to fix our health service."
Jeremy Corbyn immediately hit back, writing on Twitter: "Donald Trump is trying to interfere in Britain's election to get his friend Boris Johnson elected."
Donald Trump is trying to interfere in Britain's election to get his friend Boris Johnson elected.

It was Trump who said in June the NHS is "on the table". And he knows if Labour wins US corporations won't get their hands on it.

Our NHS is not for sale.pic.twitter.com/AUhht3pCgL

— Jeremy Corbyn (@jeremycorbyn) October 31, 2019
Mr Trump also insists the UK has "nothing to fear" if the UK does a trade deal with the US after Brexit.
Nigel said he wished Boris Johnson would drop his "dreadful" Brexit deal and fight an election on the basis that there could be trade with Europe with no political interference, adding that he would be "right behind" Boris if that was the case.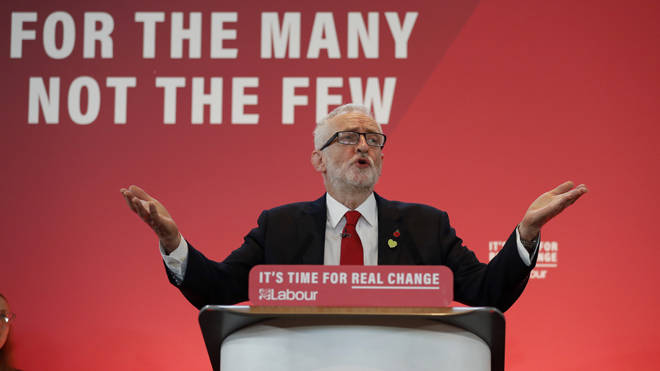 On trade, Mr Trump said: "We can do much more in trade. We are much bigger than we were. We've grown a tremendous amount and China has gone in the opposite direction.
"We've gained trillions of dollars in value and worth and they've lost trillions of dollars. We are far and away the largest economy in the world and we want to do trade with the UK. To be honest with you, this [Brexit] deal, under certain aspects of the deal, you can't do it. Under certain ways we [the US] are precluded."
Mr Farage asked him "with the election coming up, is this the moment to drop this deal?"
But Mr Trump refused to be drawn, saying he "didn't want to tell" Boris Johnson what to do.
Mr Trump also said that a team of Boris Johnson and Nigel Farage would be an "unstoppable force."
"I would like to see you and Boris get together because you would really have some numbers, because you did fantastically in the election, the last election.
"He has a lot of respect and like for you. I just wish you two guys could get together - I think it would be a great thing.
"When you are the president of the United States you have great relationships with many of the leaders, including Boris, he's a fantastic man, and I think he's the exact right guy for the times.
"And I know that you and him will end up doing something that could be terrific if you and he get together as, you know, an unstoppable force."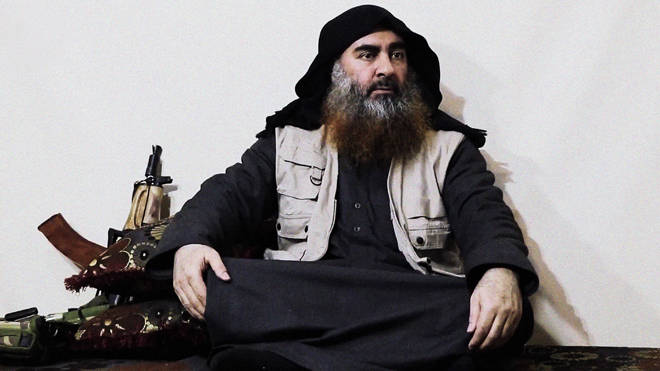 On the recent killing in a US raid of the head of ISIS al-Baghdadi, Mr Trump said it was an "amazing" victory.
He said that al-Baghdadi died "a coward" and suffered a "very rough death"
"Our soldiers, our military is by far the greatest in the world," said the president.
"They went in and he didn't know what hit him."
He also said that he would like the UK to take back the ISIS Beatles El Shafee Elsheikh and Alexanda Amon Kotey who are in custody awaiting trial in the US.
"The Beatles we have, they were the worst and they came from your territory and… you didn't want to take them back so as usual the United States gets stuck with it and we are handling it a certain way.
"We would [send them back] but you don't want them."
Speaking about teenager Harry Dunn 19, whose death in a road crash in the UK sparked a diplomatic storm with the US after the woman accused of killing him fled, claiming diplomatic immunity, Donald Trump said the case was "terrible."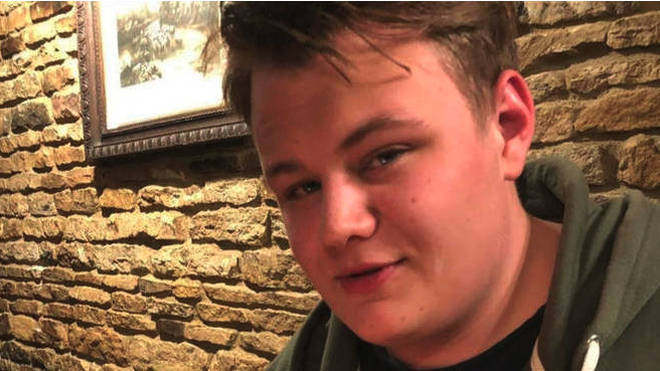 "I had a meeting set up but I guess lawyers got involved. They were both in the White House. I met with the parents of the young boy."
He set up the meeting between the parties as a favour "for Boris."
"I met with the young lady that was driving the car and she had a very compelling story to tell. They were in separate rooms and when I wanted to introduce them to each other the parents did not want to meet her."
He said he would "have to see what the final facts are" before any decision is made on whether Anne Sacoolas could be brought back to the UK to face possible charges.
On the royals, Mr Trump said that she had been taking media interest in her life "all too personally" and that he thought that Prince Harry was a "really fine young man." He also spoke about his love for the Queen, saying she is "perfect."
Signing off the interview, President Trump was asked whether he was still "enjoying it" as US president.
Trump replied: "Uh, yes. Because I'm doing more than anyone ever thought possible.
Even me. I'm doing more than I even promised I was going to do.
"I'm getting things done at a level nobody ever thought possible."
The president today learnt that he is facing the beginning of formal impeachment proceedings in the US after the house of representatives passed a resolution against him with 232 votes in favour and 196 against.
The vote is the first formal test in support for his impeachment.
Ahead of the interview, the White House condemned the passing of the vote. Mr Trump is accused of trying to pressure Ukraine into investigating claims of corruption against his rival Joe Biden and his son who worked with a Ukrainian gas firm.
Mr Trump denies any wrongdoing.
The White House Press Secretary said in a statement: "Speaker Pelosi and the Democrats have done nothing more than enshrine unacceptable violations of due process into House rules."
Watch the full interview above or on LBC.co.uk
Analysis by LBC's political editor Theo Usherwood
Donald Trump's exclusive phone call with Nigel Farage on LBC this evening could have far reaching implications for this general election campaign, both for Labour and the Tories. 
The Tories have two problems as a result of the 30 minute conversation. Firstly, Trump admitted a US-UK post-Brexit trade deal is limited by the contents of the Withdrawal Agreement struck between Boris Johnson and Brussels. Eurosceptics within the Conservative party have - to varying extents - been convinced that Boris Johnson's deal is so much better than Theresa May's agreement. That's going to be a tougher argument to make, especially if the Brexit Party go for a full throttle approach during the next six weeks.
The second problem for Boris Johnson is that Trump spoke at length about the prospect of Nigel Farage and the Conservative leader being an "unstoppable force" if they can work together. Those close to the PM have recently said he is not prepared to work with Nigel Farage. The US President clearly thinks that's a mistake. For Labour who are trying to position Boris Johnson as being in hoc to the Brexit Party and the White House, Thursday's phone call to LBC could not make their argument any better.
Finally, for Jeremy Corbyn - who has repeatedly tried to raise the prospects of the NHS being sold off to US medical companies in recent days - the insistence of the 45th President that any deal will not involve our health service is unhelpful. It will make it more difficult for Labour to continually attempt to make the link between Brexit and NHS privatisation. Not that Mr Trump's will stop them from pursuing this very strategy.