London Bridge: Eyewitnesses flee 'as fast as they could' from gunfire
29 November 2019, 15:28
London Bridge eyewitnesses have told LBC News how they ran in terror after hearing gunshots.
Jackie Bensfield described hearing "five or six" gunshots whilst travelling on a bus across London Bridge.
She said: "I just ran as fast as I could. Hearing gunshots and running from them is not really a good feeling.
"I was on the bus and there was a lot of traffic, but I remember it stopped. Then all of a sudden I see police officers yelling and people running off the bridge.
"I said 'please let me out, please let me out.' Then I just ran as fast as I could.
"'Pop pop pop' that's what it sounded like. Unfortunately I know what gunshots sound like."
A second eyewitness, Craig, was directly across the road during the incident.
He told LBC News members of the public were shouting to get away from the area because a man had a knife.
Craig said he then heard shouting from officers in an attempt to detain a man before they crossed over the road to shoot.
He also said he was certain armed officers shot a man with a gun.
Another eyewitness told LBC News that he heard multiple gun shots and was evacuated from the area.
The man said he was walking towards the north side of London Bridge when he was told to turn back.
He then heard six or seven bangs initially fired which he believed to be gun shots.
It has been confirmed police shot the man.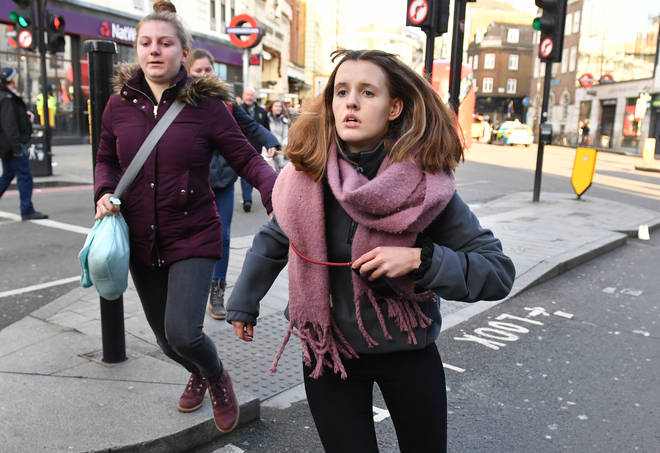 A third man, Joe, who was in one of the buildings nearby, told LBC News "We saw loads of police cars heading towards the bridge.
"And then we saw a man on the ground and police pointing guns at him.
"We were escorted away from the window and when I returned to the window ten minutes later a lady was being carried away from the scene."
Laurence Verfaillie, who owns a stall in nearby Borough market, told LBC News: "I thought it was a car crash, it looked like it was pretty minor.
"Suddenly a trader told me the ice cream seller on the bridge has run away yelling there has been an incident.
"Another trader said police were looking for someone.
"Suddenly people were taking refuge in our shop before we got told to leave.
"We still think about what happened last time."
Another witness said: "The first thing I saw was just police cars on the bridge and people were still walking around there. This was before all the armed police came in. Then there were loads of police and loads of gunshots.
"The next thing I saw, about 10 or 15 minutes later, was a guy being dragged [by police], then later on I saw a woman being carried on a green sheet.
"She was being carried by four police officers and one appeared to be talking to her."
The witness then said he said saw police "drag" another man along the bridge.
"When the guy was being dragged there was a man walking behind him who was topless and had blood on him," the witness said.
It has been confirmed that the terror attack took place at around 2pm today.
The Metropolitan Police have confirmed that a male suspect was shot dead at the scene by police officers and a number of people received injuries during the incident.
Their condition is still unknown.
Police also confirmed that the suspect was wearing a hoax explosive device.
It has also been confirmed that extra police officers will be on patrol across London in the wake of the attack.
Do you know who any of the London Bridge heroes are? If so, please contact our newsroom on 0345 60 60 973.