London Fire chief Dany Cotton questions 'stay put' advice after Grenfell disaster
16 October 2019, 16:02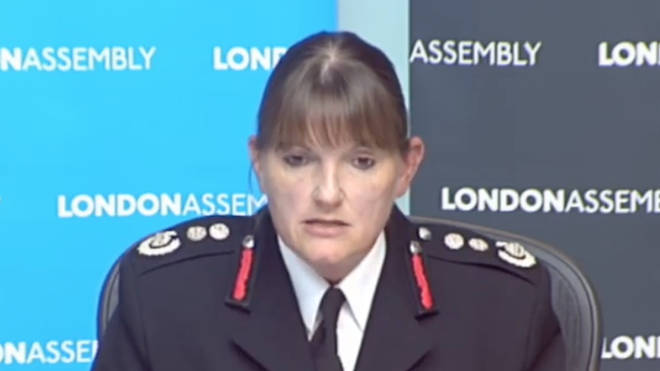 London's Fire Commissioner has said that residents of tower blocks are "absolutely" right to question stay put advice given in the event of major fires.
Dany Cotton has told the London Assembly the Government needs to introduce new guidelines to reassure people in the event of a fire similar to the one which destroyed Grenfell Tower.
The Commissioner said the London Fire Brigade was a "leading contributor" in the Government's building safety program, and they had been reviewing fire safety in existing residential buildings.
Ms Cotton sympathised with people who felt uncomfortable about the "stay put" policy.
She said: "I absolutely understand that people are questioning stay put and they feel unsure. Why wouldn't you? That's the reason why this needs clearing up now.
"We know that there are people who evacuate from buildings that are perfectly safe and they're being put at risk in that situation."
She added the LFB's campaign for sprinklers to be fitted in a wider range of buildings was a "simple no brainer."
Revealing to the London Assembly, she explained how the fire spread to the top of Grenfell Tower in "less than 30 minutes."
Commissioner Cotton said she was "calling for urgent research on buildings that fail." She said that the advice to "stay put" was "no longer viable."
The top firefighter is urging Ministers to reverse "20 years of neglect" to make sure a similar incident never happens again.
No fire brigade could cope with the wild west of building regulations that has been allowed to develop.

The government must play its part in supporting @LondonFire with the resources it needs and stronger legislation to ensure building owners fulfil their legal and moral duties.

— London Assembly (@LondonAssembly) October 16, 2019
On Twitter, the London Assembly referred to the "wild west" of building regulations which had developed over the years.
They appealed to the Government to support the London Fire Brigade with resources and legislation.
Ms Cotton pleaded with the government to ensure residential buildings are "fit for purpose" and was "hugely concerned" at the lack of progress made in improving buildings since Grenfell.
The inquiry into Grenfell previously heard how stay put advice was officially abandoned almost two hours after the first 999 call.
The LFB said buildings with a stay put strategy were not designed for mass emergency evacuations during a fire because many had narrow staircases and no common alarm system.
72 people died in the blaze in June 2017.