Major clean-up operation on Isle of Man after flooding trapped people in homes
1 October 2019, 10:28
A major clean-up operation was under way on the Isle of Man today after severe flooding washed away vehicles and left residents trapped in their homes.
A major incident was declared on the Isle of Man after the severe flooding yesterday.
Heavy rain and flooding battered the village of Laxey, where up to six foot of floodwater rushed down the roads.
Several vehicles, including a van and a digger, were also washed away.
At least three residents were trapped in their homes, and a helicopter was brought in to rescue those residents who were stranded.
Police warned residents on the island to avoid all but "urgent travel" as a landslip was reported on a mountain road.
Several roads were flooded, and those stranded in their houses were told by police to "go upstairs and await rescue".
Once the incident was under control, The Isle of Man Constabulary tweeted, "Laxey keeps turning" and thanked members of the community for their help.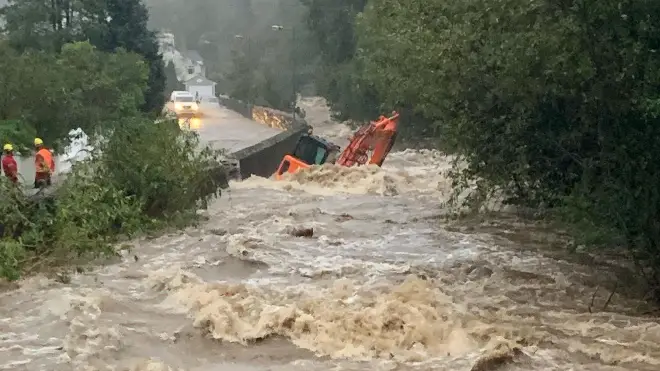 The heavy rain and flooding shut the Mountain Road and parts of the Laxey to Ramsey Coast Road and Mill Road in Onchan.
Several schools were also closed.
We are dealing with a major incident in Laxey in relation to the severe flooding and persons trapped in houses. All 999 services are in attendance. If you are safe in your house please stay in. If you need to please go upstairs and monitor media.

— TweetbeatIOM (@TweetbeatIOM) October 1, 2019
The incident followed days of dangerous weather warnings for the UK.
The Met Office is warning up to 50mmm of rain could fall in just two hours in some parts of the UK.
In England, the Environment Agency has issued 200 flood alerts, with flooding expected in every part of the country.
The Met Office has also issued two yellow weather warnings so far, saying there could be 'danger to life' flooding.