Malala Yousafzai and Greta Thunberg pictured together at Oxford University
25 February 2020, 15:38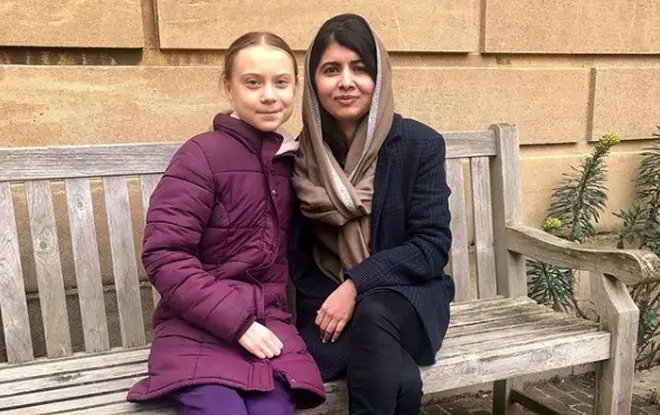 Nobel Peace Prize winner Malala Yousafzai has been pictured with climate change activist Greta Thunberg in Oxford.
The Swedish environmentalist is visiting the UK for a school strike in Bristol on Friday and visited one of the university's colleges with the education activist, who is a student there.
The pair posed for a photo on Instagram, which Malala posted with a caption thanking Greta.
They met at Ms Yousafzai's college, Lady Margaret Hall, to discuss their activism and talk with students.
Other Oxford students spotted the famous pair on their tour, with one picture posted on Twitter showing the pair in a busy corridor surrounded by shocked students.
Malala later posted the image on the social media site with the caption: "She's the only friend I'd skip school for."
Politics lecturer Dr Jennifer Cassidy tweeted: "Reason unlimited why I love this place. I walk out my door, up one street and see Malala and Greta Thunberg talking outside.
"Two powerful young women standing for justice, truth and equality for all. So many, are so grateful, for all that you do. Keep shining bright."
Malala, the youngest Nobel Peace Prize laureate, has previously expressed her support for Greta, who has twice been nominated for the prize.
The college's master, Alan Rusbridger, posted a photo of Greta with some of his students and said he was "honoured" to host her.
"Grateful she found time to talk to some of our students about science, voting, the limits of protest, divestment, real zero v net zero, and much more," he tweeted.
Ms Yousafzai, 22, was shot in the head by a Taliban gunman at the age of 15 after campaigning for girls to be educated in her native Pakistan, and went on to become the youngest-ever Nobel Peace Prize winner in 2014.