Man exposed in LBC people smuggling investigation tries to flee when confronted
2 October 2019, 07:51
This is the moment an LBC reporter confronted a man exposed as being part of a people smuggling gang before he attempted to flee and was caught by security.
In an exclusive investigation, LBC infiltrated the Dunkirk-based organisation, meeting Farooq, one of the leaders, in woodland, where he explained how he could transport migrants across the English channel for £7,000.
The reporter was asked to take the money to a shop in Birmingham.
In the third part of the shocking story today, the reporter agreed to meet Farooq again in a pizza restaurant in Dunkirk - when LBC's reporter Rachael Venables asked him to comment on the evidence - only for him to make a desperate run for it.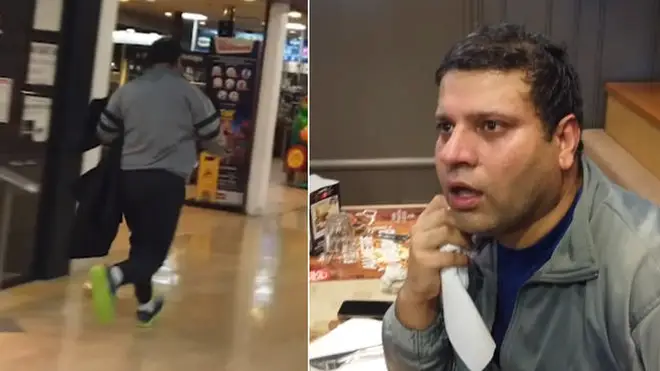 Rachael told him: "We know you are a people smuggler. Talk to me about why you're doing this.
"Why are you putting people's lives at risk?
"You are charging people thousands of pounds to put them in those boats, to send them over to the UK. Why are you doing this?"
A clearly stunned Farooq could only say: "I don't know. I'm no smuggler."
Rachael informed him of the video of him admitting it - and after more questioning, Farooq picked up his things and began to leave the restaurant.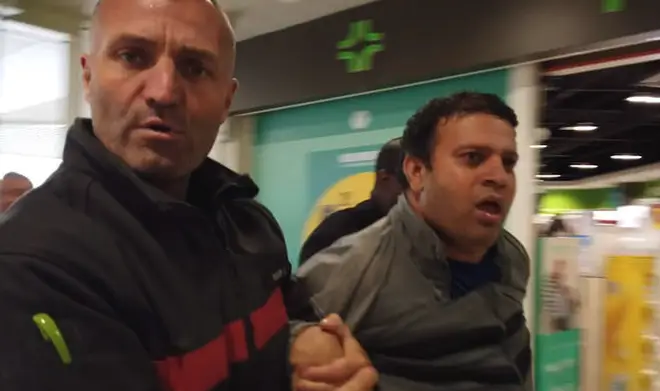 He walked calmly to the door with Rachael following, continuing to deny that he was involved in any kind of people smuggling.
But as soon as he was out of the door, he sprinted away.
As he ran, with Rachael and a camera operator pursuing, he charged into a security guard, knocking him flying. That guard then joined the chase.
Just as Farooq got to the exit of the shopping centre, three security guards tackled him to the ground and led him away.